Tap your feet in lush grass as you listen to Bluegrass. Watch movie stars on a big screen under the stars. Savor delectable wines as you savor colorful riverside sunsets. There's so much to enjoy this summer along the Ohio River in Clark and Floyd counties. So get out, feel the river breeze, hear the music, and dance the night away in riverside-style.

Food to Dine for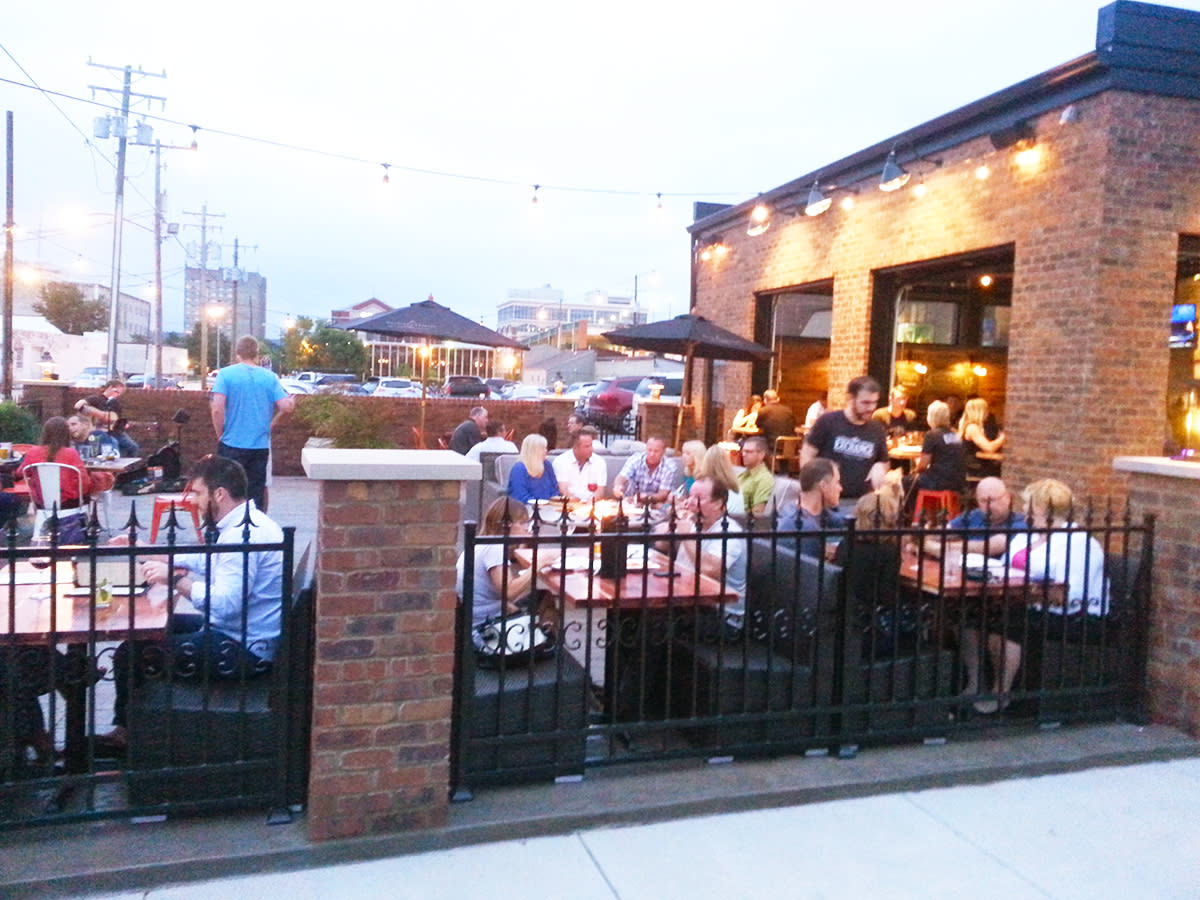 patio at The Exchange in downtown New Albany
Before or after your show, enjoy local fare, international cuisine, American gastro pub favorites, and locally crafted beers and wines in riverside restaurants and pubs.  You'll experience stunning views, relaxed atmospheres, and scrumptious food when you dine in Southern Indiana's historic river towns. 
You'll find more than seven international cuisines within a four block radius in downtown New Albany—French, Italian, Asian, Mexican, Greek, Cuban, American Gastro-pub, and organic foods. Delight in goat cheese fritters with bacon-date aioli or pretzel baguettes with beer cheese for starters.  How about a Mexican-Mayan inspired 12 oz. ribeye steak main course topped with chorizo, onion, and Mexican cheeses? As you satisfy your cravings, admire exposed brick walls, rustic wood furnishings, and retro-fixtures in beautifully restored buildings. Dine al fresco and listen to live music as you sip lush reds, refreshing whites, and enjoy American-crafted beers. In the summer, relish the charm and flavor that's put New Albany on the foodie map.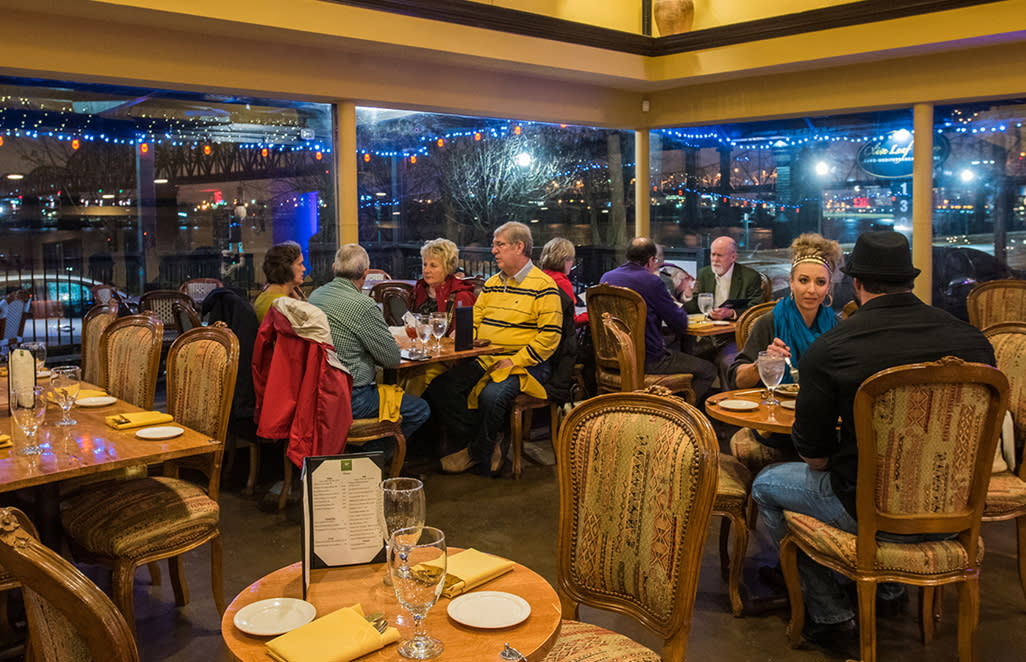 The Olive Leaf Bistro along Riverside Dr. in Jeffersonville

Indoor or outdoor riverside dining options are plentiful along Riverside Drive in Jeffersonville. Enjoy American classic favorites, or chef specialties like Chicken Oscar—seared chicken breast topped with crab imperial, asparagus and hollandaise, or the Louisville-famed Hot Brown—roasted turkey breast with bacon, cheddar cheese and tomato on French bread, then baked with Mornay sauce. Delicious! From the highest views of the Ohio River and Louisville skyline, to up-close riverside terraces and patios, your dining experience along the Ohio River in Southern Indiana will be a riverside feast.

Setting the stage: One river, two cities, two river stages
Every seat is the "best seat in the house" on the terraced lawns at Jeffersonville's riverside-anchored RiverStage and New Albany's Riverfront Amphitheater.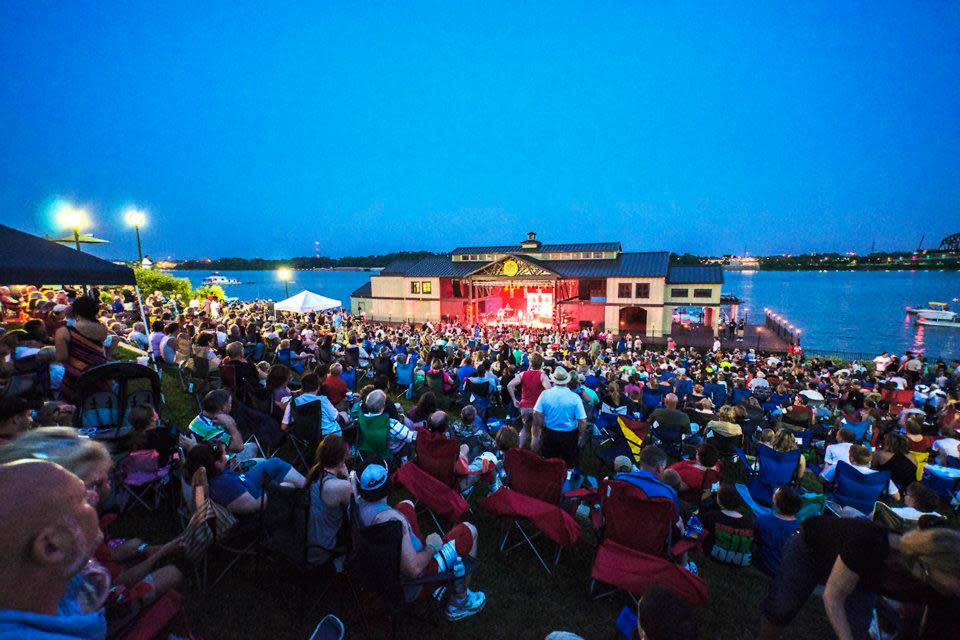 Jeffersonville's RiverStage and                                                                                  
Cozy-up on a blanket or relax in your favorite lawn chair for live rock, jazz, or country music concerts on Friday nights at Jeffersonville's RiverStage. On Saturday nights, watch family-friendly flicks including recent Disney favorites and classic cinema oldies. Snack or feast on convenient vendors' food as the kids romp and play on the inflatables.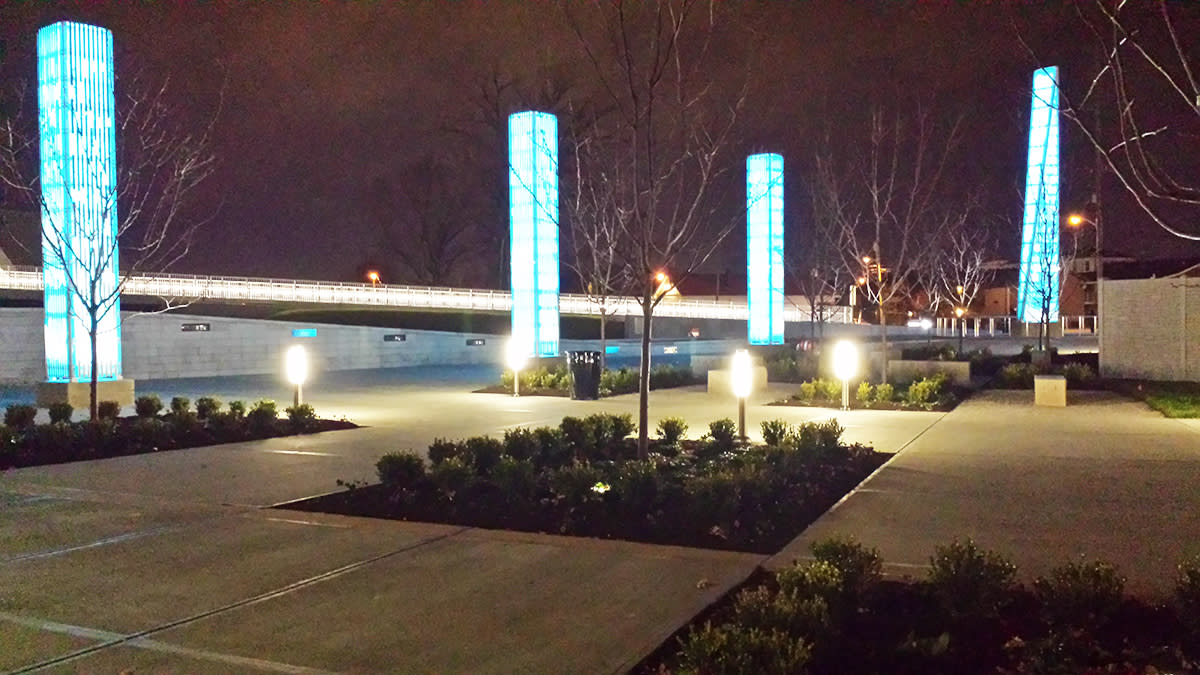 Big Four Station Park and Big Four Pedestrian Bridge access ramp at night
Before you head home, stroll to Big Four Station Park just two blocks away.  The color-changing obelisks light your path to the Big Four Pedestrian Bridge. Walk across the Ohio River, feel the cool river breeze, and take in the nighttime views from atop your tranquil getaway.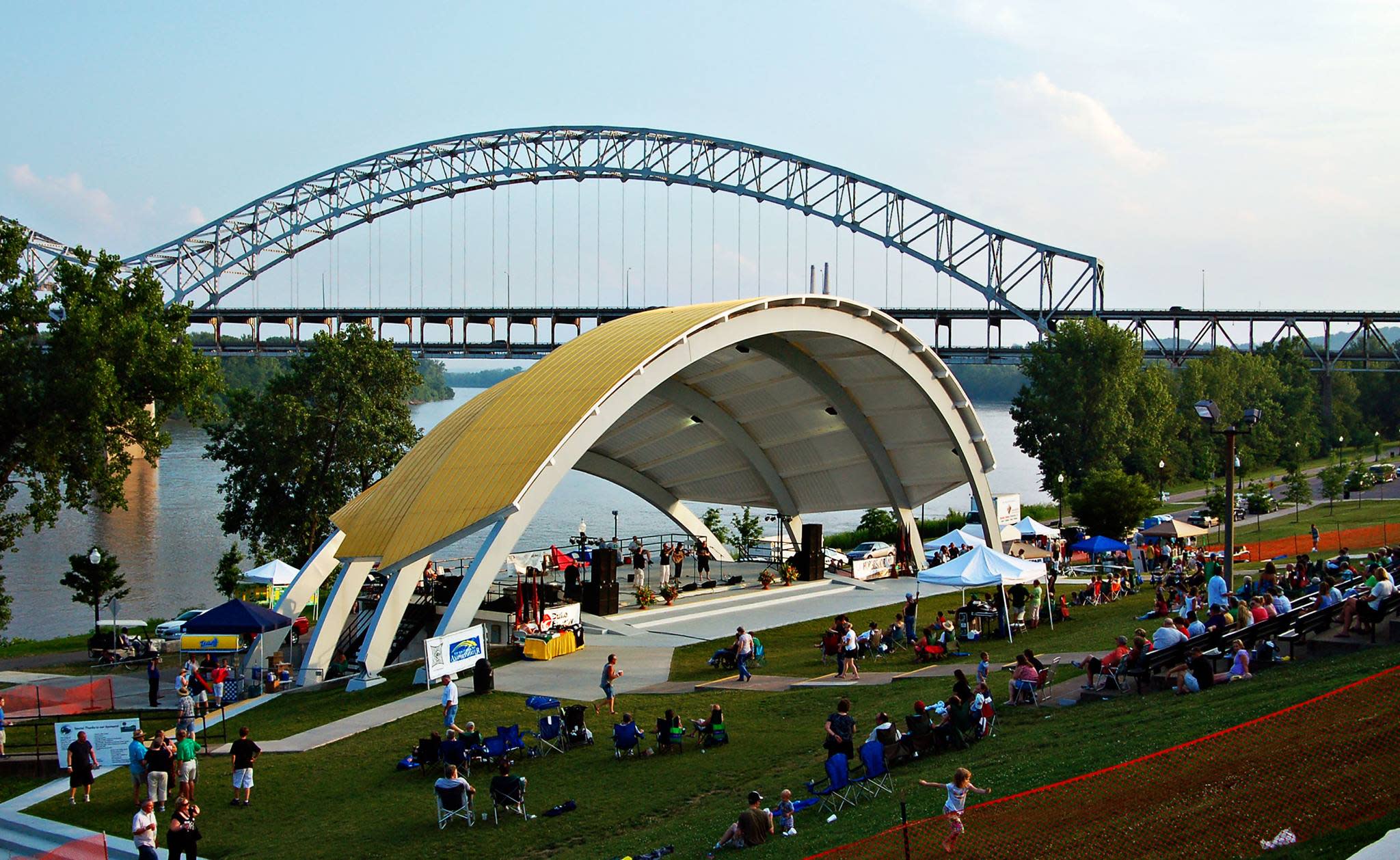 New Albany Riverfront Amphitheater

New Albany's Riverfront Amphitheater is also home to live river side weekend concerts and family entertainment, such as New Albany Riverstage Production's "Seussical, the Musical" and "Grease." Just three blocks away in the heart of historical downtown, listen to local bands perform in New Albany's Bicentennial Park every Friday night May through September. Stretch out, enjoy the outdoors, sing-a-long and laugh out loud to familiar tunes, tales, and comedies along the riverside.