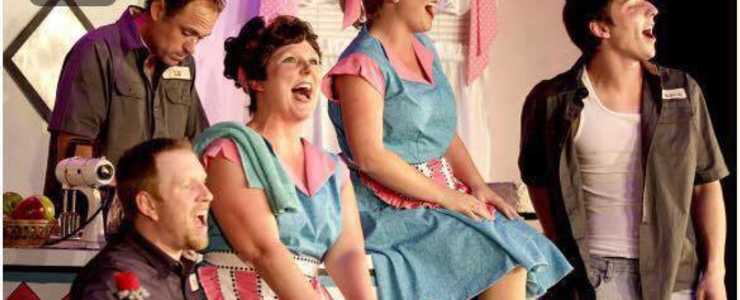 For years, Clarksville's Derby Dinner Playhouse and Clarksville Little Theatre have entertained locals and visitors. Joining SoIN's theater "cast list" in June: TheatreWorks of Southern Indiana, New Albany's new community theater production company.
TheatreWorks of Southern Indiana
After months of renovation, the non-profit theater group recently moved into the 1837 Indiana State Bank building in downtown New Albany. The building's first floor performance space includes a permanent stage with flexible seating. The second floor's beautifully domed room will also house performances and is available to rent for special events.
The Neil Simon comedy "Rumors" will be TheatreWorks' premiere production. It will run the first two weekends in June. Seats are limited to 92 per performance, so theater-lovers, get your tickets soon! Season tickets are available, with five more productions rounding out the 2017-2018 season: "Big River: The Adventures of Huckleberry Finn," "Proof," "An Old-Fashioned Christmas," "Moon Over Buffalo," and "Titanic: The Musical." 
Show: "Rumors"
When: 7:30 p.m., Thursday-Saturday, June 1-3 & June 8-10; 2 p.m., Sunday, June 4 & 11
Cost: Adult: $16; Senior: $13
TheatreWorks of SoIN, 203 E. Main St., New Albany
(812) 844-1051
www.TheatreWorksOfSoIn.com  
Derby Dinner Playhouse
The region's established dinner theater begins its 2017-2018 season with the hilarious "Empty Nest," a comedy about a couple's new life of freedom disrupted when their grown sons return home. Though its subject matter resonates with older audiences, every age will enjoy this fun production!
Show: "Empty Nest"
When: Matinee and evening performances Tuesdays through Sundays, through July 9
Cost: Adults, $39-$47; discounted tickets available for children under 12 for Friday and Sunday evenings
Summer children's theater resumes in June at Derby Dinner with the sweet and entertaining "Fancy Nancy, the Musical," Children will enjoy this fanciful story of Nancy and her wish to be the mermaid in her very first show. Based on the book series by Jane O'Connor and Robin Preiss Glasser.
Show: "Fancy Nancy, the Musical"
When: 9 a.m., breakfast, 10 a.m. show; Noon lunch, 1:15 p.m. show, Saturdays, June 3 – July 8;
6 p.m. evening show, Monday, June 12
Cost: $17 breakfast, $22 lunch

Derby Dinner Playhouse, 525 Marriott Dr., Clarksville
(812) 288-8281
www.DerbyDinner.com
Clarksville Little Theatre
Did you know Clarksville Little Theater is one of America's oldest continually producing community theaters?  Founded in 1946, this "little" theater company has been bringing "big" productions to SoIN for 71 years. Just in time for summer fun, Clarksville Little Theatre will present Disney's "Alice in Wonderland" in June. Families with young children will love Lewis Carroll's classic tale brought to life, complete with the Mad Hatter, White Rabbit, King of Hearts, and of course, Alice.
Show: Disney's "Alice in Wonderland"
When: 7:30 p.m., Friday and Saturday, June 23 & 24; 2 p.m., Sunday, June 25
Cost: Adults: $18; Seniors and teens: $15; Children ages 6-12: $10; ages 6 and under are free
Clarksville Little Theatre, 201 E. Montgomery Ave., Clarksville
(812) 283-6522
www.ClarksvilleLittleTheatre.org