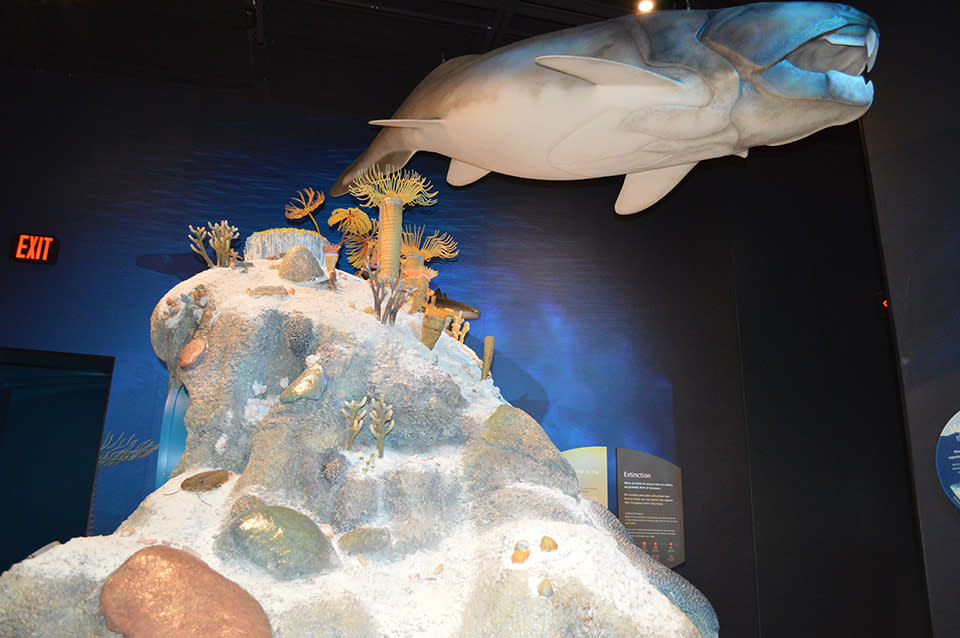 The Falls of the Ohio State Park's new interpretive center is comprised of four-themed exhibit areas—The Devonian Sea, A Changing Land, Converging Cultures, and The Falls Today. You walk under a mammoth skeleton to enter the
Devonian Sea
. Next, you enter a time tunnel of sorts where you hear the bubbling and gurgling sea. Here, you'll see squiggly corals and sponges, a life-size shark creature floating high above, and other creatures swimming along an entire wall. Lighted maps and fun pop-up coral tubes are just a couple of the highlights here.
Roughhewn walls resembling a frontiersman's cabin tell A Changing Land's story. It is an earthy visual, giving you a deeper understanding of fossils and ancient life. What's the difference between an archaeologist and paleontologist? "Meet" both of them (through life-size photos) and learn about what they study. Here, you can feel the coarse texture of bison hair and piece together puzzles to learn about the trees, flowers, and wildlife that inhabited pre-pioneer days.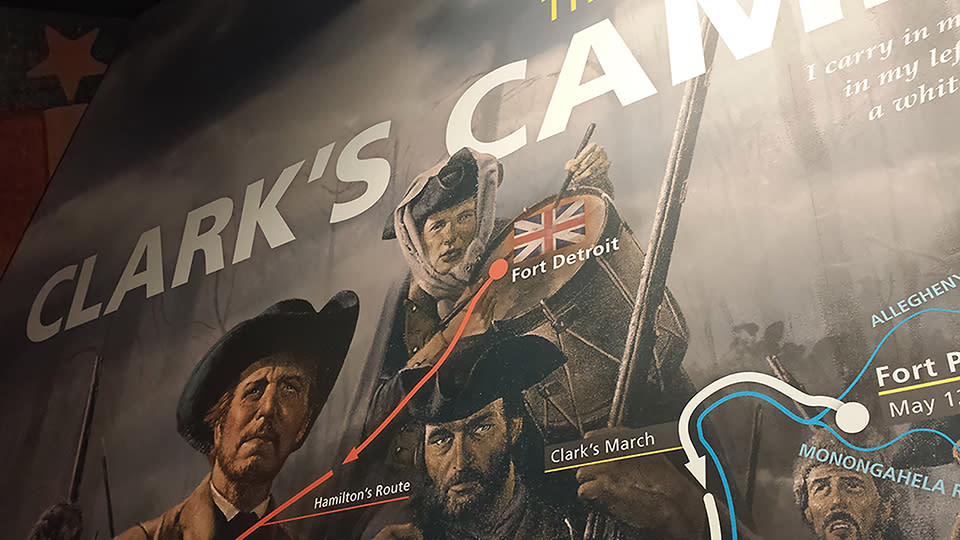 You can almost smell the campfire wood burning as you watch an intimate film about Lewis and Clark's Corps of Discovery. In the Converging Cultures exhibit, you'll walk through a pioneer cabin leading to a wegiwa (a Shawnee hut). You'll listen in to a recording of native Shawnee speakers – a son, father, and grandmother – talk of their fishing trip.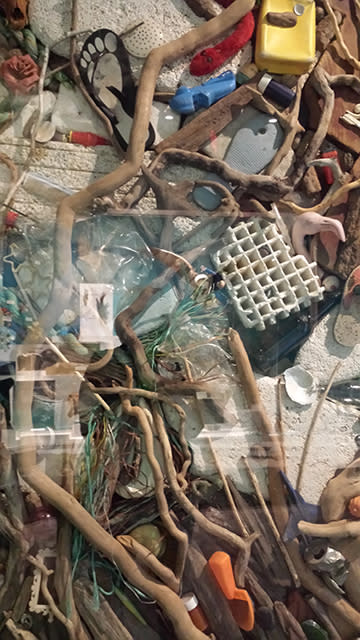 The Ohio River shores have changed, as revealed in The Falls Today. Interactive panels, colorful maps, and powerful facts tell an important conservation story. You'll see river shore trash that has been turned into art. The piece hangs across from photos of children enjoying the Falls—a poignant conservation message and feel-good moment all-in-one, just like the exhibits themselves. 
Want more information on the Falls of the Ohio?  Read more on our website, or visit: www.fallsoftheohio.org