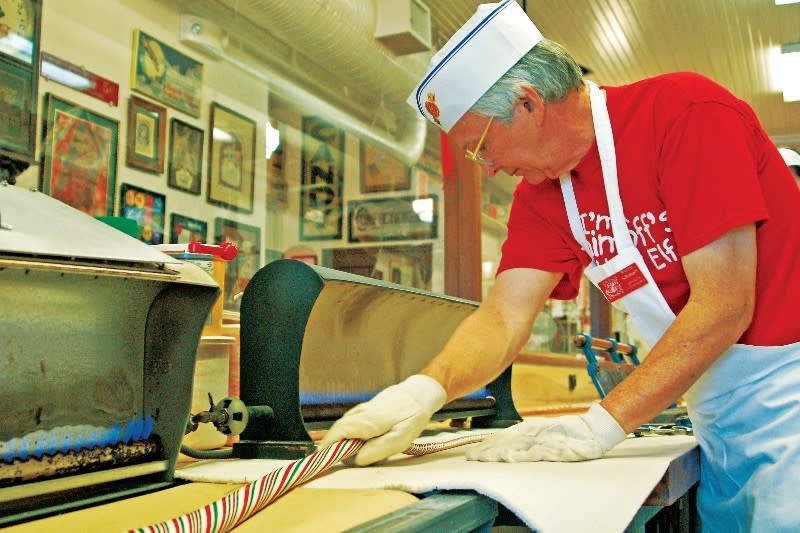 Schimpff's Confectionery and Candy Museum will celebrate its 125th anniversary in April 2016. Current owner and candy maker, Warren Schimpff (pictured above), is the third great grandson of Gustav Schimpff, Sr. who began the business in 1891.
Sweet facts about Schimpff's candy canes:
1.  Schimpff's will make about 2,000 candy canes, or 400 pounds, during the holiday season.
2.  Warren and Jill Schimpff have been making candy canes for almost 35 years.
3.  To make the candy canes, the Schimpff's use about 300 pounds of sugar, 100 pounds of corn syrup, and one cup of pure peppermint oil.
4.  Schimpff's has made a 35 pound barber pole candy cane for the Galt House Hotel in Louisville.
5.  Locals like to purchase a 3-foot, 4-pound candy cane to ship to friends and family.
Red hot facts about cinnamon red hots:
According to Warren, last year Schimpff's made over 17,000 pounds of red hots, and 4,000-5,000 pounds were sold during the holidays.  If sales projections are correct, Warren and Jill Schimpff are on track to make 20,000 pounds of red hots in 2015.  
View Warren and Jill make candy canes on Sat., Nov. 28. at 347 Spring Street, downtown Jeffersonville.
Want to know more about Schimpff's? Visit: www.schimpffs.com 
Click here to find more sweets and treats in Southern Indiana!