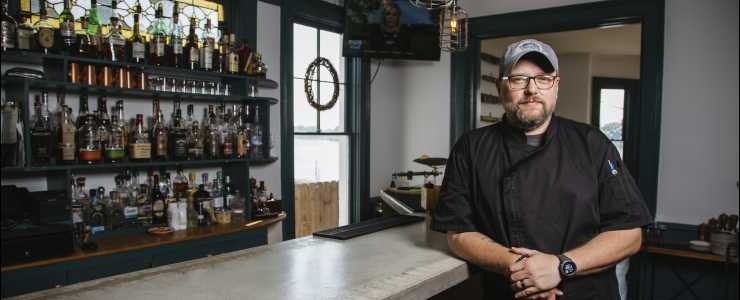 The culinary scene in southern Indiana has attracted a lot of attention recently, so we sat down with one man who knows what it takes to stand out. After winning a cooking competition on national television, to now running three kitchens, we were curious as to how things have changed and what the local dining excitement means for SoIN.
R: How long have you been in the restaurant industry?
D: You know, I've been in the restaurant business for about 25 years. A lot of people say I don't look that old, but it's catching up with me. I've pretty much done it my entire life and I love it. I'm from Charleston South Carolina, so when I moved to the Louisville area I was curious about the river and now I've got a restaurant across the river right here in Jeffersonville.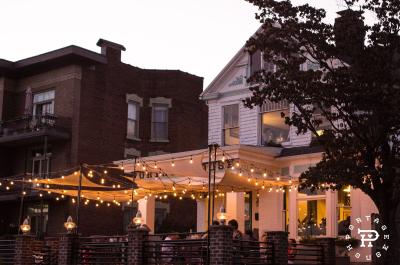 R: What motivated you to set up shop in Jeffersonville?
D: I honestly think that the community is growing. Jeffersonville is a great area, it is such a nice quaint downtown neighborhood. The view is amazing, it's the best view in the entire region.
R: How would you describe the Portage House to someone who's never been here before how would you describe where we are? 
D: I like to tell people it reminds me of the old houses in Charlestown in South Carolina, it has got that kind of southern feel, but we try to do a modern take on southern cuisine, that's what we do here.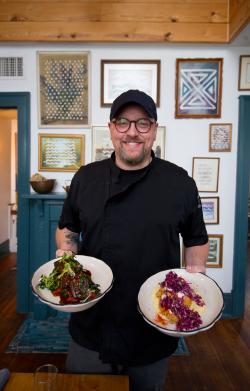 R: And the food is good. I've been here before and it was amazing. So I'm going to go ahead and address the elephant in the room. Chopped, the Food Network show, how has your life changed since that experience?
D: You know, it's interesting. I think its made me have a whole lot more work to do, I've been a whole lot busier in that aspect. But nothing has really changed. I still cooking in restaurants. I think that's part of the fun. I do have people ask me for the occasional picture and say that they saw me on Chopped, which is kind of cool too.
R: So what is new or upcoming for you, the Fat Lamb or the Portage House? 
D: Well, we just took on another operation over at Copper & Kings Distillery right across the river, in between here and the Fat Lamb so it's easy to get to. We just took over the food operations there. They produce brandy, gin, and absinthe and they're a great distillery to be a partner with, so that's my next project. Who knows what's going to come after that? 
R: What do you think about the current food scene on this side of the river? And what do you think the future has in store for the restaurant scene in southern Indiana?
D: I really think the restaurant scene is going to grow a lot over here, very quickly, very soon, just because people are more exploratory now. They want to try new things. Try new cuisines, and they want nice places to dine. They don't want that chain experience as much, and they want independent restaurants like Portage House to be a part of their dining experience and their night out. I've seen such tremendous growth here since we've even been a part of this community.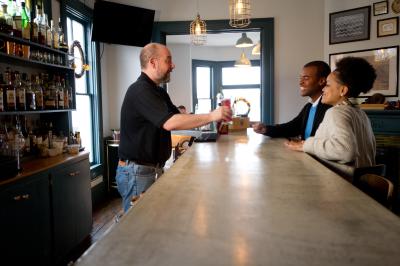 R: What are some things that you like to do in this area? What attractions, what kinds of things do you like to do in your free time? 
D: I love going to the Falls of the Ohio right down the road. It's cool. I love taking my kids over there. We go hiking, we explore and look around. It's fun. But even taking a stroll through downtown Jeff. It's unbelievable walking on the riverfront here, you know? It's a super cool place just to be outside a little bit to get some fresh air and see some sunshine. 
R: Well I'll let you get back to it. Thank you for taking the time to chat with me Dallas.
D: Thanks, Russell!