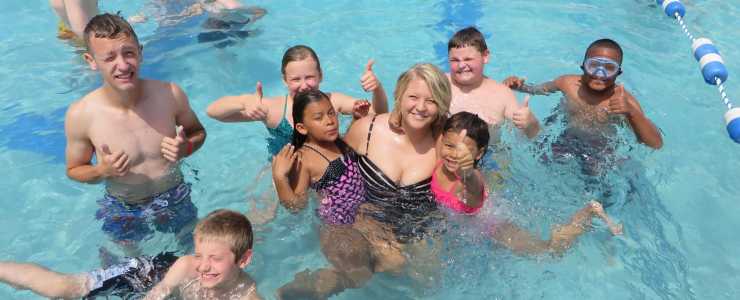 Entertaining visiting friends or relatives this summer? Looking for fun things to do not so far away from home? SoIN parks, riverfront amphitheaters, and aquatic centers come alive in May! It's time to get outdoors and enjoy live music, movies, theater, biking, walking, hiking, and picnics at these fun outdoor spots in SoIN.
 
Clarksville
Clarksville Cove Family Aquatic Center, formerly the Clarksville Aquatic Center, will open to the public on Saturday, May 27. Dive in and cool off with new water features that include three splash pads, a body slide, tube slide, and lap pool. There will also be a full concession area and a "birthday zone" for kids' birthday parties. Clarksville Cove's Tico the Toucan adds colorful whimsy to SoIN's newest water fun destination. 
Clarksville Cove Family Aquatic Center
800 S. Clark Blvd., Clarksville
(812) 280-2085
http://ClarksvilleCove.com
Gather on the lawn for "Movies in the Park" at Clarksville's Gateway Park every first Friday, May through October. Bring lawn chairs and a cooler packed with your picnic favorites as you watch family-friendly movies shown on a big screen.  Movies are FREE and begin at dusk.  In May, watch "Finding Dory."
Gateway Park's "Movies in the Park"
500 Little League Blvd., Clarksville
(812) 288-1380
http://www.clarksvilleparks.com
 
New Albany
New Albany's River Run Family Aquatic Park opens for the 2017 season on Saturday, May 27.  This state-of-the-art water park opened two years ago, and has waterslides, a lazy river, a safe kiddie pool, and fun water features and splash pads. The onsite concession stand offers snacks and drinks so families can enjoy hours of fun. River Run can also be rented for birthday parties—how cool is that?
RiverRun Family Aquatic Park
224 Daisy Lane, New Albany
(812) 948-5380
www.NARiverRun.com
New Albany's newest recreational area, Silver Street Park, is home to year-round activities at its indoor sports facility. During warmer months, families can skateboard, play basketball, picnic, play on the playground, and enjoy water-fun at the splash pad.
Silver Street Park
2043 Silver St., New Albany
(812) 949-5448
http://CityofNewAlbany.com/silver-street
The outdoor summer concert series at downtown New Albany's Bicentennial Park resumes on Fridays beginning on May 26.
Bicentennial Park
118 E. Spring St., New Albany
(812) 949-7275
http://NewAlbanyCityHall.com/events/2017/5/26/bicentennial-park-concert-series
Jeffersonville
Anchored along the banks of the Ohio River, Jeffersonville's RiverStage provides great summertime entertainment. Its terraced lawn, Louisville skyline backdrop, and downtown Jeffersonville walkability make this a great venue for live music every Friday night and movies every Saturday night, May through late August. On June 2, rock out to the Louisville Crashers who begin the Summer Concert Series. On June 3, Twilight Cinema returns to RiverStage's big screen with "The BFG." Inflatables and games for kids will be there for pre-movie fun.
Jeffersonville RiverStage
West Riverside Dr., Jeffersonville
(502) 376-9104
https://jeffparks.org/the-riverstage/
Jeffersonville Aquatic Center will open for the season on Saturday, May 27. Featuring a 6-lane 50-meter outside competition pool, a 6-lane 25-yard competition and lap pool, a  family play pool, two water slides, and a new "sprayground," families can enjoy water fun in the sun through Labor Day. There are also concessions, a large deck for sunbathing, and a nearby paved walking trail and skate park.
Jeffersonville Aquatic Center
2107 Middle Rd., Jeffersonville
(812) 282-7946
https://JeffParks.org/parks/jeffersonville-aquatic-center/
During May 25-29, downtown Jeffersonville welcomes Abbey Road on the River—one of the nation's largest Beatles-inspired music festivals. Bands and artists such as Peter Noone of Herman's Hermits, Grammy winner Peter Asher, American rock band The Grass Roots, Mark Lindsay of Paul Revere and the Raiders, and others will perform. Performance locations include Big Four Station Park, The Clarion Hotel and Conference Center, and 300 Spring.
Worth mentioning: Though the festival is a ticketed event, the Jake Clemons Band will give a FREE concert on Thursday evening, May 25.  Following in the footsteps of his late uncle, E Street Band saxophonist Clarence Clemons, Jake will perform mainstage at Big Four Station Park. Also, 2017 marks the 50th anniversary of the "Summer of Love" and the release of the Beatles' "Sgt. Pepper's Lonely Hearts Club Band" album! Tickets are still available and can be purchased online or at the event.
Abbey Road on the River
Big Four Station Park, 227 Pearl St., Jeffersonville
300 Spring, 300 Spring St., Jeffersonville
The Clarion Hotel & Conference Center, 505 Marriott Dr., Clarksville
http://www.AROTR.com
Charlestown
Looking for a playground, splash pad, and miniature golf all-in-one fun spot? Charlestown Family Activities Park is where you'll find all kinds of family fun! Beginning May 12, enjoy roller skating, the pirate-themed sprinkle pad and playground, and miniature golf on Fridays and Saturdays, 11 a.m.-5 p.m. On May 29, the park will be open Mondays-Saturdays, 10 a.m.-5 p.m.
Charlestown Family Activities Park
1000 Park St., Charlestown
(812) 256-3422
http://cityofcharlestown.com/parks/family-activities-park