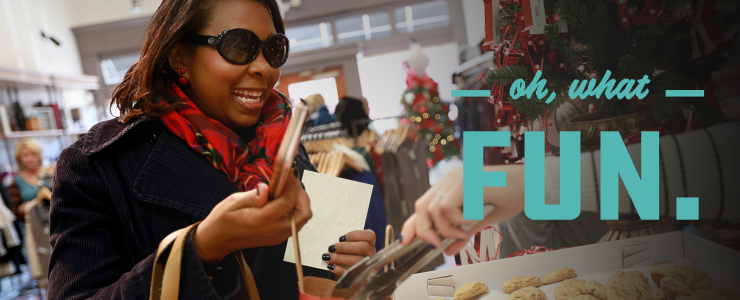 SoIN's holiday guide for food, drinks and entertainment 
Scents of fresh pine, roasting cedar and cinnamon spices will soon fill the air. It's the time of year for holidays. Turkey and ham dinners become the norm. Charlestown Christmas City and local Jingle Walks are great standards whether you live here and will be hosting family members or you are visiting from another city. 
Want something a little different this season? Check out our fun guide and make this holiday season legendary.
Give them Cheer
Sometimes it's best to start family gatherings with a little holiday cheer. The local watering holes in SoIN would love to welcome you and your kin. Stop in and enjoy one of their signature cocktails or holiday beverages to begin your cheerful weekend. 
No worries if you're a teetotaler, we've got options for you as well. 
Pints&union
For the sippers, Pints&union, in New Albany, has an old-style European pub feel with wood floors, exposed brick and rustic interior design with wooden tables and booths, leaded glass pendant lights, and chandeliers. The décor features art and oddities such as taxidermy. Pints&union serves small plates that include flavors from around the world with unique twists. 
But we're here to discuss the drinks, um, the cheer. 
The menu features new takes on old classics such as the Gin and Tonic. One of them, called the Malaga, features an organic gin, old tom (capitalize Old Tom?) tonic, soda, and flavors of juniper berry, strawberry, lime, and mint. 
There are coffee cocktails, various types of shandy, and Champagne cocktails. In addition, Roger Baylor (local curmudgeon and beer expert) has curated a great list of brews. 
The Alcove
In Jeffersonville, the former general manager of Vinyl, Chris Palmer has teamed up with former beverage director of Portage House and Parlour, Dan Mahoney to bring a different drinking experience to downtown Jeff. The atmosphere is like a favorite neighborhood bar with tin ceilings and salvaged wood. 
The Alcove's drink menu features some amusingly named treats such as the Alcove Conference Call, a beverage featuring Rye, Old Grand-Dad, and Hennessey. The Rashida the Cheetah features Lunazul Reposado tequila with velvet falernum, lime, orange bitters, and Central State Pampelmousse beer. Sounds fancy, but rest assured from the reviews this is a great place to wind down with friends or family, catch a game and enjoy the flavors of the season. Plus, the bar is open late, 5 p.m. - 3 a.m.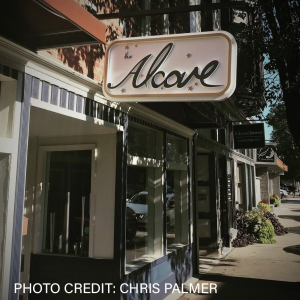 For the non-drinkers:
Southern Indiana has no shortage of coffee spots and places with warm drinks if you don't drink alcohol. 
The Olivet
The Olivet is an upscale retail establishment and tasting emporium not only offering premium extra virgin olive oils and aged balsamic vinegars, handmade chocolates, truffles, and candies but also some of the best hand french pressed coffee around town.
 
The Olivet
137 E Market St. Suite 103,
New Albany
Fill Them Up
This year try something new. Eat a gyro, grab a taco, or hit one of the wonderful Asian eateries in SoIN. 
Here are some of our foodie favorites:  
Aladdin's is a Mediterranean comfort food gem. You can find the classic gyro, shwarma sandwiches in chicken and beef, kebabs, and falafel. There is hummus, tabbouleh, and always a winner, the fattoush salad. Aladdin's also has a small selection of desserts including baklava. 
Aladdin's Café
37 Bank St.
New Albany 
Thai food is SoIN. There are so many flavors and many dishes are relatively uncomplicated to make with the right ingredients. 
Mai's Thai is a Jeffersonville treasure. The menu features classic Thai flavors with home-style flair. Try the Pad Thai but beware if you have peanut allergies. Many Thai dishes contain cashews or peanuts. The Chicken Satay is unbelievable, and in the winter, nothing can break the chill like soup. Mai's Thai has several. We recommend the Tom Jued Woon Sen, which is a chicken soup in a clear broth flavored with garlic and onions. Many of the dishes can be made spicier to fit your tastes. Mai's Thai also offers cooking classes for those interested in learning to make Thai food at home. 
Mai's Thai
1411 E. 10th St. 
Jeffersonville 
A Clarksville jewel, La Lupita offers some traditional Mexican fare from the Oaxaca region of Mexico and others. There are tortas, sopas (an open-faced sandwich on a homemade thick corn tortilla), and the ever-popular tacos. 
The Tlayuda features a corn tortilla, topped with red sauce, black refried beans, chorizo, steak, and queso Oaxaca.
The dishes range in proteins from fish and shrimp to beef, pork, and chicken. If you are an adventurous eater, ask for the chapulines but be prepared, these are crickets. Yep, those kinds of crickets. 
La Lupita 
827 Eastern Blvd. 
Clarksville 

Make 'Em Laugh and Sing
Derby Dinner Playhouse is entering their 45th year. Having opened in 1974, Derby Dinner has brought many fun theatrical productions to Southern Indiana and Kentucky audiences alike. Derby Dinner continues its holiday tradition with two treats: Elf; The Musical and Christmas in Candyland.

TheatreWorks of SoIN
One of the newer theatres in the region, TheatreWorks puts a special emphasis on offering theater experience for young people and helping the region's talent and technicians find opportunities to use their crafts. 
This year TheatreWorks is bringing the Christmas Madrigal and Feast to its stage. For an eight-day-only performance from Dec. 4 - 7 and Dec. 11 - 14, guests will be treated as royal guests and get to experience the joys of holiday music and festivities. 
In SoIN, there's no reason not to have a blast with family who visits for the holiday. Find your flavor and jump into the holiday fun!
Staying with us for the holidays? Click here for area hotel information.