Courtesy of Chef Matt Weirich
Chicken
½ cup sugar ½ cup kosher salt 2 whole cloves 2 garlic cloves 1 tsp. whole black peppercorns 3 sprigs thyme 1 bay leaf 2 qts. water 1 3-pound chicken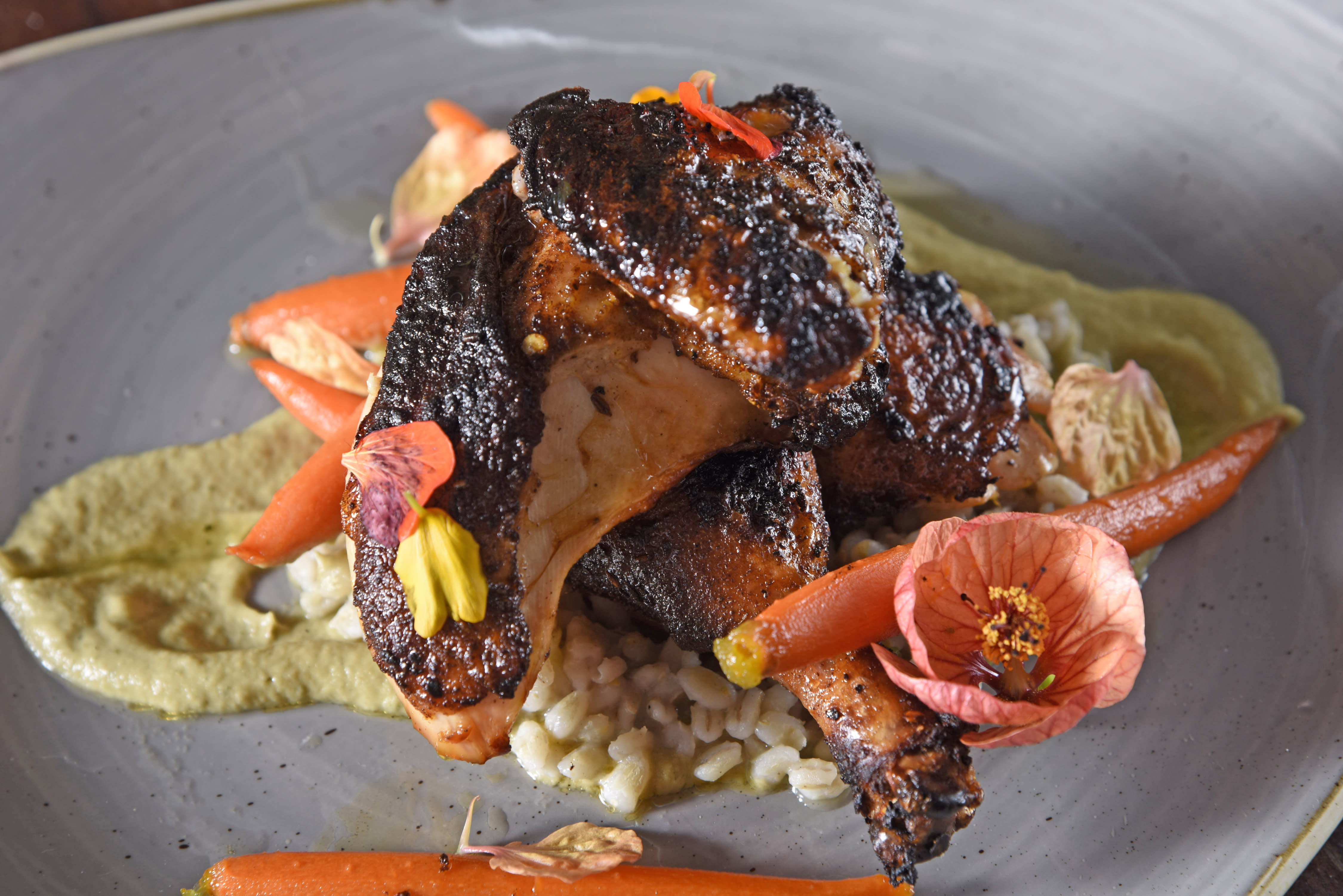 For the brine:
Combine all ingredients except the chicken into a pot and bring to a boil. Allow to cool to room temperature. Refrigerate. Once brine has completely cooled, submerge chicken in brine and allow to sit for two days. Remove and thoroughly dry.
To roast the chicken:
Preheat oven to 500˚. Rub brined chicken with Moroccan Spice Rub on all sides. Truss the chicken and place in oven for 10 minutes. Reduce oven temperature to 350˚. Turn oven down to 350˚. Rotate every fifteen minutes. After two turns, check internal temperature of the thickest part of the breast and the thigh. Internal temperature needs to reach 165˚. If chicken has not reached that internal temperature, rotate again, and allow to cook another 15 minutes. Once chicken has reached 165˚, remove from oven; pour Orange Honey glaze over chicken.
Moroccan Spice Rub
¼ cup paprika 2 tbsp. ground cumin 2 tbsp. ground cinnamon 1 tbsp. kosher salt 1 tbsp. ground ginger 1 tbsp. ground red pepper 1 tbsp. ground black pepper In a mixing bowl, combine all ingredients.
Orange Honey Glaze
¼ c. water ¼ c. sugar 1 orange, peeled and juiced 1 tbsp. honey Salt Combine water and sugar in a saucepan; bring to a boil. In a bowl, juice the orange, and add the juice to the simple syrup; add the orange peel. Add honey and bring glaze back to a boil. Allow to reduce to au sec. Season with salt. More Chef Matt Weirich's creations and 
The Exchange Pub + Kitchen
are located in downtown New Albany, 118 W. Main Street.  Find more 
downtown New Albany restaurants
.