Go back in time to witness the expedition handshake between Meriwether Lewis and William Clark. Hear the youngest Revolutionary War veteran tell his patriotic story. Experience these and other Southern Indiana historic events and people up close and personal this month.
Stories Behind the Stones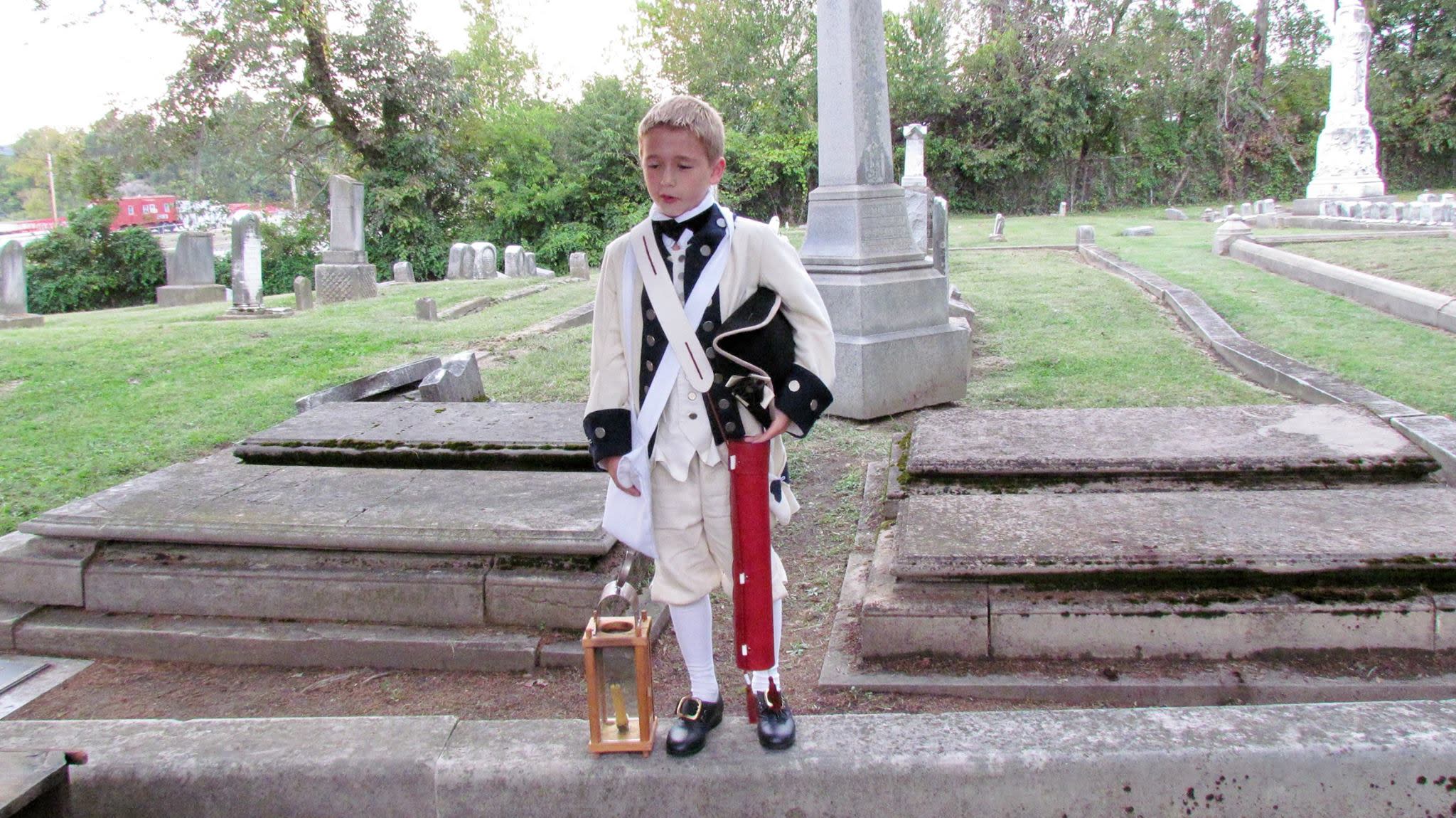 Richard Lord Jones was the youngest Revolutionary War veteran and is buried in New Albany's Fairview Cemetery. Experience history at a new level—on a tour of New Albany's oldest cemetery. With more than 35,000 stories to tell, Fairview Cemetery's "Stories Behind the Stones" is led by re-enactors who bring stories to life. Several prominent Hoosiers are among the buried, including Indiana's 11th Governor Ashbel P. Willard (1857-1860) and Patrick Shields, who was one of the signees of the Indiana Constitution. Other interesting facts: Some vaults in the cemetery date back to the mid-1800s, and victims of an 1844 steamboat disaster are among those buried there. When: 5 p.m. on Friday & 6 p.m. on Saturday, September 23 & 24 Where: 806 E. 6th St., New Albany, Ind. Cost: $10 for adult, $5 for children Info: (812) 704-3248; https://www.Facebook.com/StoriesBehindTheStones
New Albany Historic Homes Tour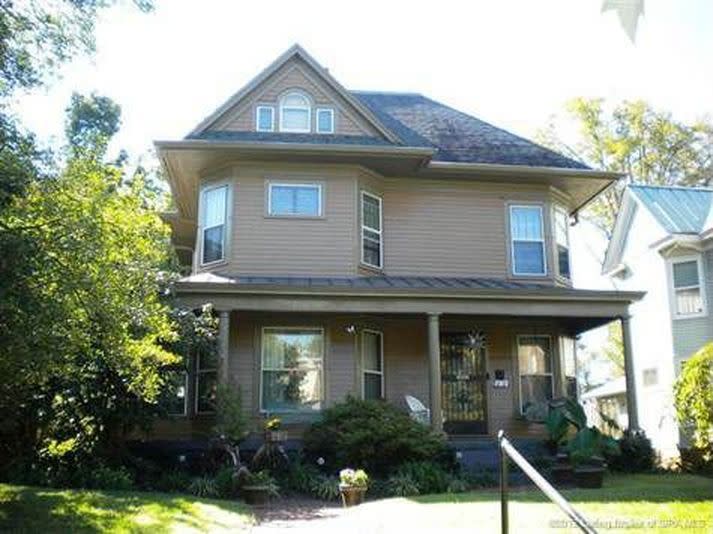 See and explore history through architecture by touring some of downtown New Albany's finest historic homes and buildings. The tour will begin at the New Albany Farmer's Market where tour-goers will receive a booklet guide. Homes on the tour include James and Angelina Collins Building, 157 East Main St. Stanton R. Welch Building, 208 Pearl St. Day-Kenney House, 800 East Main St. Market Street Brewery, 315 East 10th St. Dowd-McBarron House, 1007 East Market St. Helfrick-Dietrich House, 1005 East Elm St. Gustav Kiel, Jr. House, 2001 East Elm St. Gibbs-Crawford House, 2102 East Elm St. Mathes-Hess House, 1313 Ridgeway Ave. Roberts-Dooley House, 303 Highland Ave. Hoglen-Strassweg-Banet House, 207 Highland Ave. When: 10 a.m.-5 p.m., Saturday, September 10 Where: Various homes in downtown New Albany Cost: $15 in advance, $20 day of tour, $5 under age 15* Info: www.DevelopNA.org *Tickets available online at www.DevelopNA.org or from these New Albany businesses: Strandz & Threadz, Dress & Dwell, Seeds & Greens
Rock the Rocks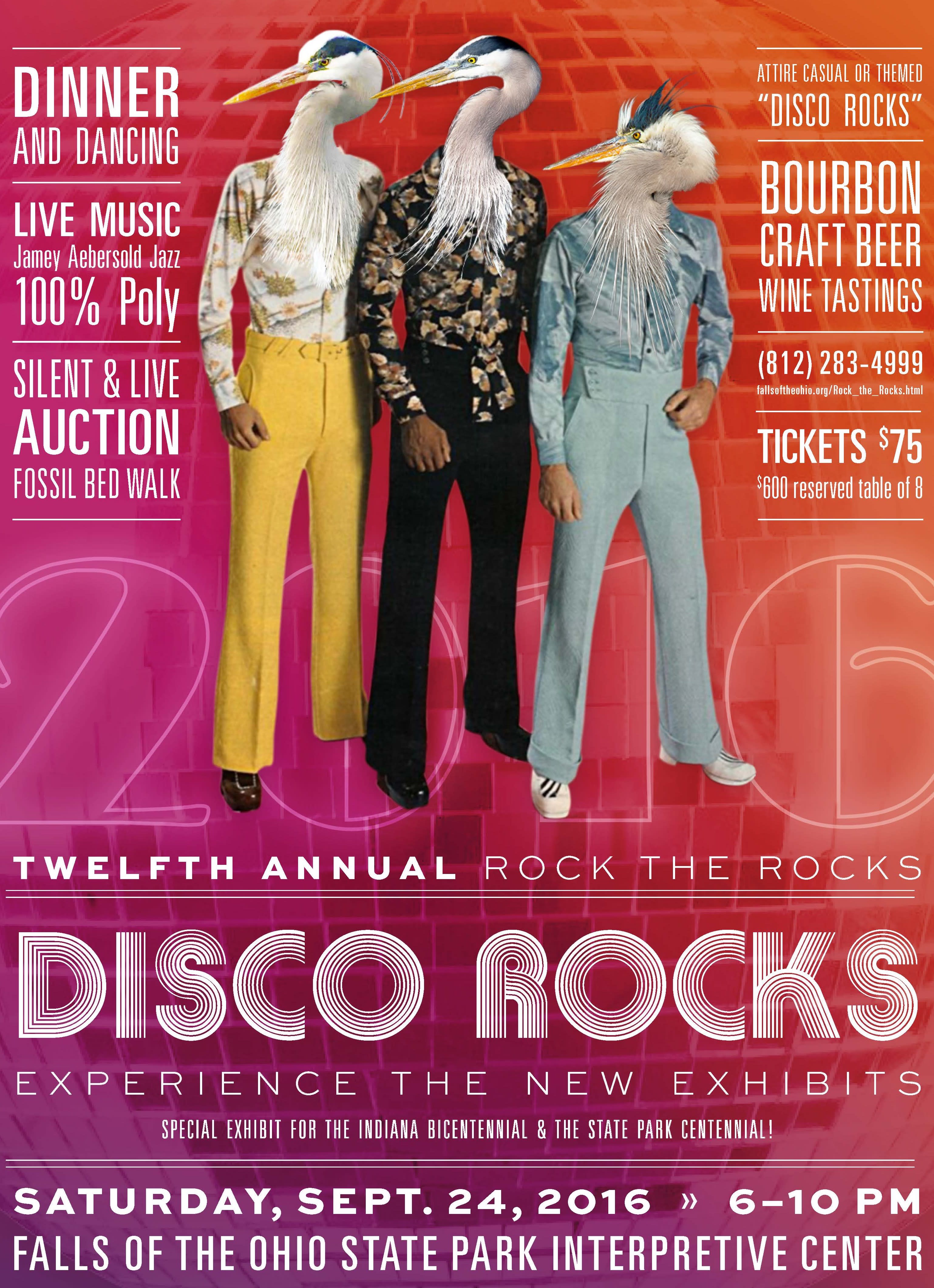 Rock out to disco at the Falls of the Ohio State Park's annual party and fundraiser, "Rock the Rocks." With disco as the theme, you know it's going to be a far-out time! Enjoy a catered meal, Jim Beam tastings, craft beer from the New Albanian Brewing Company, wine sampling, and music by Jamey Aebersold Jazz and 100% Poly. A silent auction will also take place throughout the evening. When: 6-10 p.m., Saturday, September 24 Where: Falls of the Ohio State Park Interpretive Center, 201 W. Riverside Dr., Clarksville, Ind. Cost: $75 per person or $600 for a table of 8 Info: (812) 283-4999; http://www.FallsOfTheOhio.org/Rock_the_Rocks.html
Indiana Bicentennial Torch Relay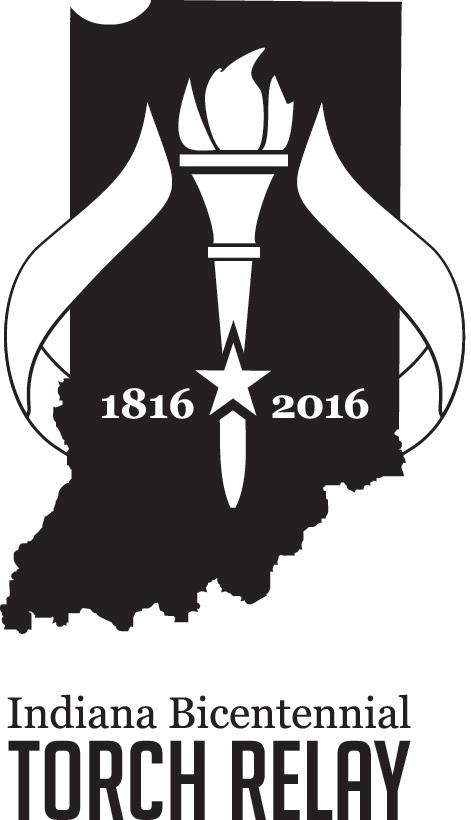 Join in the once-in-a-lifetime celebration of Indiana's Bicentennial along the statewide torch relay route. The relay begins on September 9 at Indiana's first capitol in Corydon (Harrison County), and will travel through Clark and Floyd counties on September 15 and 16. You can cheer for the torchbearers along the route. See the complete list of Indiana Bicentennial Torch Relay torch bearers. When: Floyd County: 3-7 p.m., Thursday, September 15; Clark County: 9 a.m.-12:30 p.m., Friday, September 16 Where: Statewide; Route Map Cost: Free Info: http://www.in.gov/ibc/torchrelay/3150.htm
Steamboat Days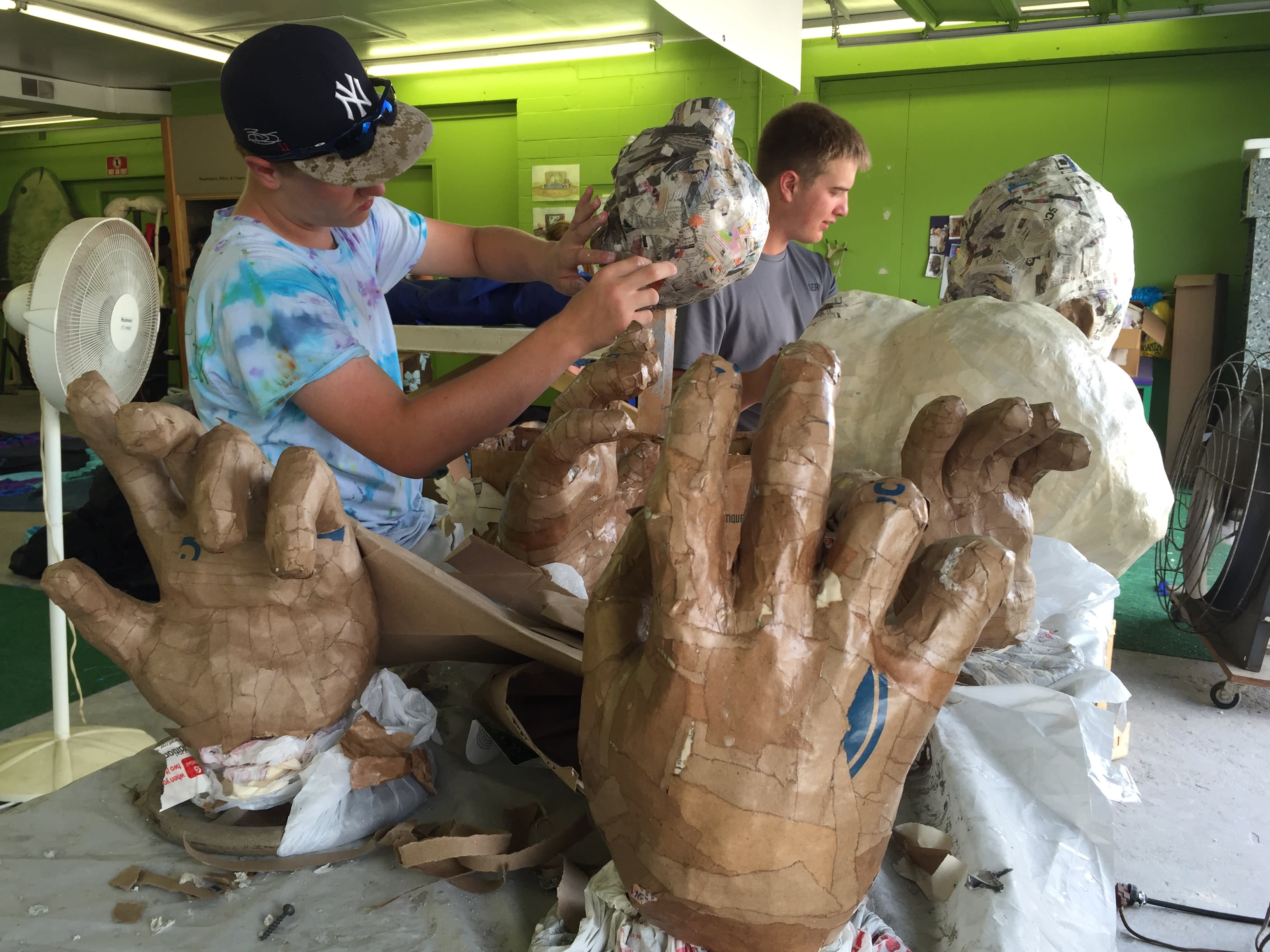 Workers complete giant hands appearing in "The Stunning Bicentennial Puppet Extravaganza: Pioneering Spirits of Clark County" puppet show as part of Steamboat Days. Revel in all things steamboats at Jeffersonville's family-focused Steamboat Days festival. This three-day event combines art, music, food, and activities centered on the region's rich history in steamboat building and the Ohio River. Art activities include a juried artisan village, a live sand sculpting demonstration, a chalk walk, and the Bicentennial Puppet Extravaganza, "Pioneering Spirits." The festival will also feature a balloon glimmer, live entertainment, a wine tasting event, a farm-to-table dinner, the "Greatest Little Boat Race," Victorian Games, and a parade. When: Friday through Sunday, September 2-4 Where: Big Four Station Park, Pearl and Chestnut Streets, Jeffersonville, Ind. Cost: no cost for admission for most events.
Lewis and Clark Festival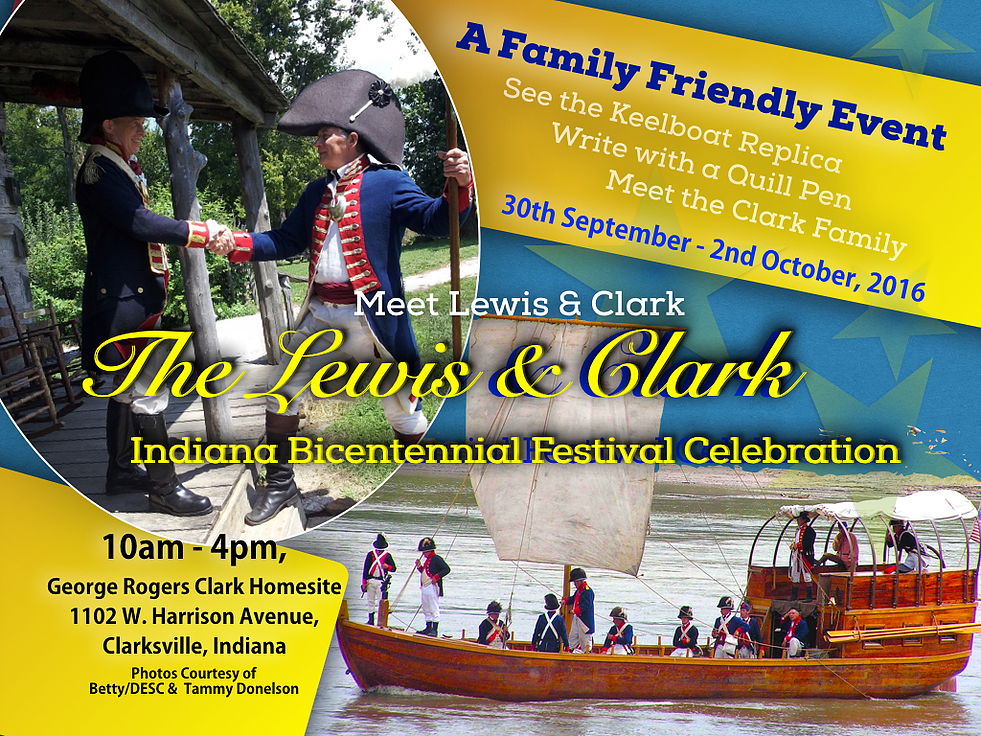 The historic Corps of Discovery Expedition team was formed by Meriwether Lewis and William Clark along the Ohio River shores in what is now Clarksville, Indiana. Walk and talk with Lewis and Clark re-enactors, see a keelboat replica, and write with a real quill pen. Most of the fun will take place at the George Rogers Clark Home Site, with other related events. Events scheduled at the Falls of the Ohio State Park, 201 W. Riverside Dr., Clarksville:
Friday, September 30: 9 a.m.—3 p.m., Education Day with Discovery Expedition of St. Charles Learning Stations; 6 p.m., "Lewis and Clark at the Edge of Science and Technology with the Help of the First Americans," by John Fisher. John will interpret educational trunks from the Carnegie Library in Crawfordsville and Falls of the Ohio Interpretative Center.
IU Southeast, 4201 Grant Line Rd., New Albany:
Sunday, October 2: Noon—3 p.m., "Lewis and Clark Handshake" fun event celebrating the famous handshake signifying an expedition pact between Lewis and Clark.
When: Friday-Sunday, September 30-October 2 Where: George Rogers Clark Home Site, 1102 W. Harrison Ave., Clarksville, Ind. Cost: Free Info: http://www.LewisAndClarkIndiana.com/#!events/vydzs