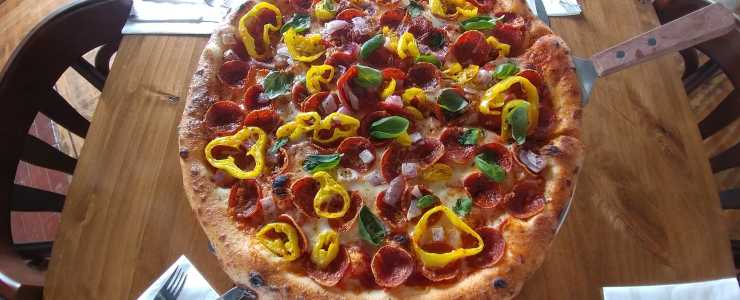 SoIN is booming and blooming! New restaurants are popping up like spring flowers, with art galleries, exhibits, and public art just around the corner. Pick a day (or two!) to visit and enjoy new culinary and art masterpieces this spring in Clark and Floyd counties.
Cool Culinary Flavors in SoIN
Just in time for downtown Jeffersonville's summertime activities, Parlour—Jeffersonville's newest restaurant—serves up pizza and pints. Dine inside the renovated 181-year-old Duffy-Hancock home for artisanal pizzas, garlic knots, salads, and beer. For cocktails, go upstairs where the bar offers lofty views of Big Four Station Park. The carriage house-turned-pub and adjacent beer garden is a fun outdoor space, complete with Adirondack chairs, corn hole and fire pits.
Parlour, 131 W. Chestnut St., Jeffersonville
(812) 914-7400
www.EatParlourPizza.com
Art Forms Add Beauty
Carnegie Center for Art and History in New Albany is home to permanent and rotating art exhibits. "Pulp Art: Out of the Gutter and on the Walls" will be its newest exhibit, May 12-July 8.  Taking a look at the pop art of comics and cartoons, "pulp" refers to the low-grade, high-pulp content of the paper used for comic books. "Gutter" refers to the space between each panel in a comic strip. See 10 artists' amazing pulp art which celebrates America's art form born from early 20th century newspapers.
The Carnegie Center's next public art project involves reviving New Albany's skate park. Artists are encouraged to submit ideas on how to improve the existing skate park using public art.  Carnegie is partnering with Bloomington, Indiana's Hunger Skate Parks, who's resume includes skate parks across the U.S. Submissions are being accepted until May 15.
Carnegie Center for Art and History, 201 E. Spring St., New Albany
(812) 944-7336
www.CarnegieCenter.org
Tucked away in the small SoIN town of Utica is a hidden gem: Hidden Hill Nursery and Sculpture Garden. Combining whimsical art structures with colorful plants and trees, Bob and Janet Hill's eight-acre garden is a tranquil and inspiring collection of natural and man-made works of art. From May 12 to August 11, Hidden Hill will host the first-ever "Kentuckiana Sculptors Guild Invitational." Over 50 works of art for the garden from local, regional, and international sculptors will be displayed. Opening reception will be 5-8 p.m., Friday, May 12. Enjoy wine from Turtle Run Winery, and folk music from The Griffiths. Admission to Hidden Hill is free, but if you're a plant or art lover, you will have opportunity to purchase flowers, trees, and rare plants, and also works of art.
Hidden Hill Nursery & Sculpture Garden, 1011 Utica-Charlestown Rd., Jeffersonville (Utica)
(812) 282-0524
www.HiddenHillNursery.com
 
Discover more ways to enjoy SoIN food and art!