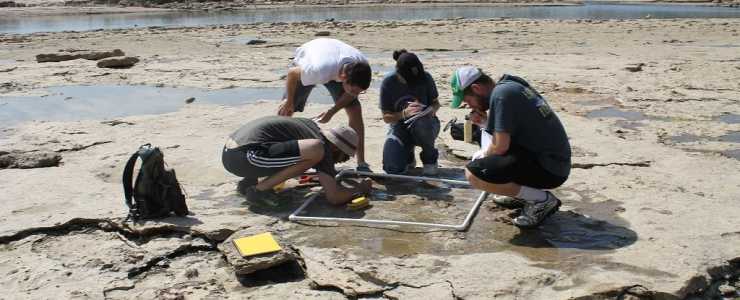 Ask a child to name a big fossil, and they'll probably give you the name of a dinosaur like T. rex, Diplodocus, or Triceratops.
How many times will someone say a coral or sponge? Probably never – unless they have visited the fossil beds at the Falls of the Ohio.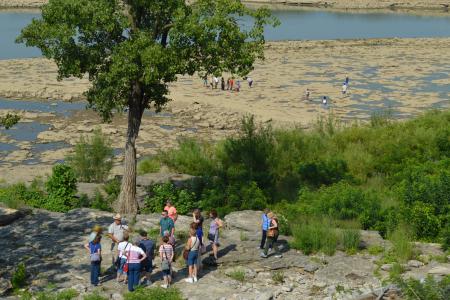 A few fossils at the Falls can compete in actual size with a big dinosaur. At Fisherman's Point on an upper ledge, there is a pattern of lines that are traceable for about 150-feet – part of a big fossil sponge! Near the river's edge when the Ohio is low (typically August through November), there is a colony of thick branching coral that we've measured at 50-feet long. Many corals and sponges are as big – or bigger – than an adult stretched out on the rocks.
How to recognize a big fossil on the fossil beds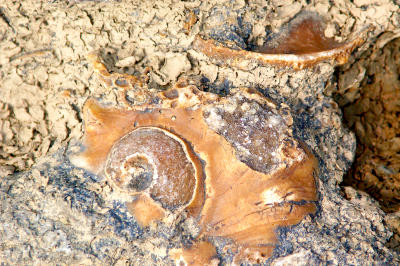 On the 'flats' – part of the fossil bed that is flooded most of the year, the colonies form mounds that rise a few inches above the surrounding surface. They are best seen when the sun angle is low where they cast a shadow. The mounds are "honeycomb" corals, Prismatophyllum - "Petoskey Stone" colonial corals (hexagonal outline about an inch wide), or sponges (no discernable pattern visible without getting on your hands and knees for a closer look). Some fossil sponges are partially replaced by quartz, with a black coating of iron and manganese that resemble cow patties.
When to Visit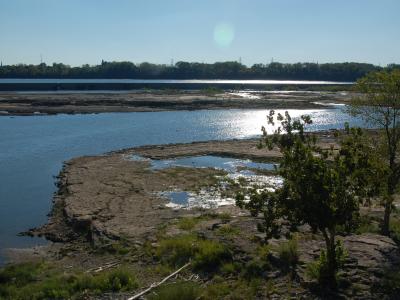 You can visit the fossil beds most of the year. The upper fossil beds are exposed unless the area has had heavy rains. The big fossils are on both the upper and lower fossil beds. Remember to bring your camera, but leave your collecting tools at home. It is unlawful to collect fossils.
Want to learn more about Devonian sea life? Visit the exhibit gallery inside the Falls of the Ohio State Park's Interpretive Center.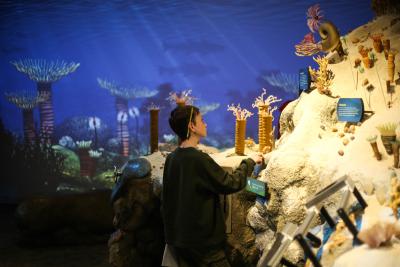 Click here for more info on outdoor fun and SoIN parks!
Did you know...
Local artist Albertus Gorman creates art from discarded items washed on shore along the Falls of the Ohio. See his work!