Experience Southern Indiana's vibrant art scene of talented artists who are featured in galleries, juried art fairs, exhibits, and public installations.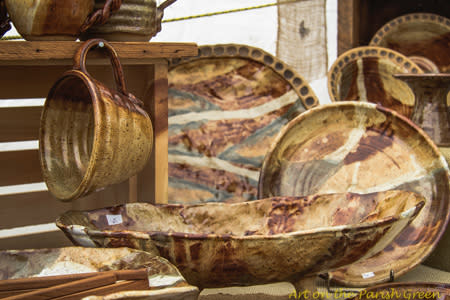 One-of-a-kind pottery found at Art on the Parish Green Art on the Parish Green Celebrating its 10th year, this two-day juried art fair features high-caliber Kentucky and southern Indiana artists. Community and artists come together from all walks of life to share colorful artisan pottery, jewelry, and paintings. There will also be food and wine, and games for children to play—all on the lawn of the St. Paul Episcopal Church—the "parish green." All 2016 festival proceeds will be given to the Shepherd's Kitchen community ministry. Where: 1015 E. Main St. New Albany Open: 10 a.m.-6 p.m., Saturday, June 11; noon-5 p.m., Sunday, June 12 Info: (812) 944-0413, www.ArtOnThePaishGreen.org Arts Council of Southern Indiana's "Bank On It" Exhibit Experience art in a new way and in a non-traditional space. The Art Council of Southern Indiana's "Art on the Road" series turns downtown New Albany's Parthenon building into an art gallery! The art installation "Bank On It" will fill up every space of the former Indiana State Bank with paintings, drawings, sculptures, and textiles by I.U. Southeast Alumni/local artists. Where: The Parthenon, 203 E. Main St., New Albany Showing: by appointment, Thursday, May 19-Friday, June 3; closing reception, 5-7 p.m., Friday, June 3 Info: (812) 620-5843; www.ArtsCouncilSI.org/bank-on-it/4592373732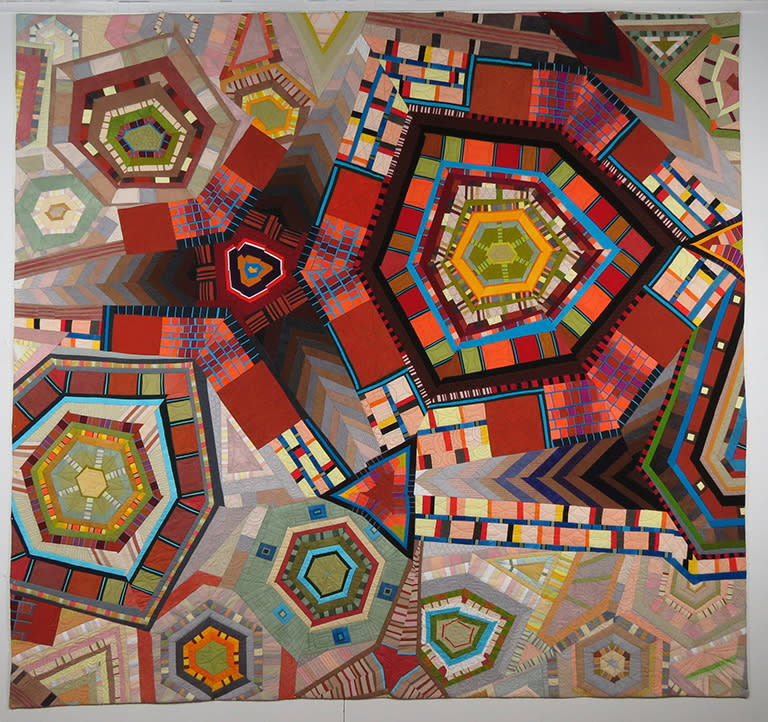 Niraga Lorenz's quilt art featured at Carnegie's "Form, Not Function" Carnegie Center for Arts and History The unique quilt art exhibit "Form, not Function" returns to Carnegie Center again this year, showcasing the colorful and creative works of 20 fiber artists chosen from across the nation. Never seen this exhibit? You'll be amazed at the complexity and varied forms of quilt art! Where: 201 E. Spring St., New Albany Showing: May 13-July 9; 10 a.m.-5:30 p.m., Tuesday-Saturday Info: (812) 944-7336, www.CarnegieCenter.org Chestnuts and Pearls From its small beginnings in a parlor at a bed and breakfast inn, Chestnuts and Pearls' spacious downtown New Albany location is both a gallery and antique store. Delightful vintage jewelry and antique finds, and admire local artist's oil and watercolor paintings, prints, pottery, and photography on display. Where: 157 East Main St., New Albany Open: 11 a.m.-4 p.m., Tuesday-Saturday Info: (502) 548-9114, www.ChestnutsAndPearls.com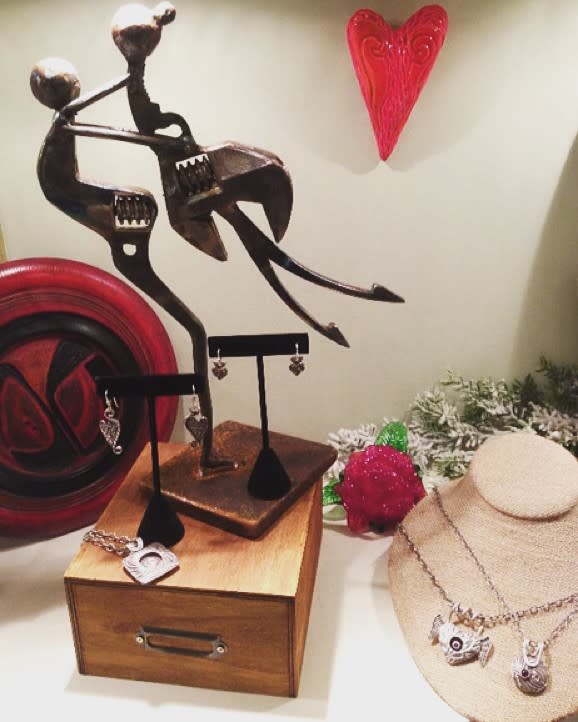 Gadabout Art Gallery Housing exhibits of both established and emerging artists, the building's exposed brick compliments this gallery. Gadabout is also an artisan shop, supporting local artists and giving customers unique paintings, sculptures, fiber arts, and jewelry to buy. Where: 249 Spring St., Jeffersonville Open: 4-8 p.m., Wednesday-Friday; noon-7 p.m., Saturday; noon-5 p.m. Sunday Info: (812) 913-1716, www.GadaboutGallery.com Hidden Hill Nursery and Sculpture Garden As you stroll through thousands of blooms, rare trees and plants, you'll walk among whimsical sculptures by regional artists.  Hidden Hill is a working nursery, but it is also a sculpture garden—displaying acres of flowers and art together in a fancy-free way. Where: 1011 Utica Charlestown Rd., Jeffersonville Open: 10 a.m.-5 p.m., Thursday & Friday; 9 a.m.-5 p.m., Saturday; noon-5 p.m., Sunday Info: (812) 282-0524, www.HiddenHillNursery.com Jeffersonville Public Art Commission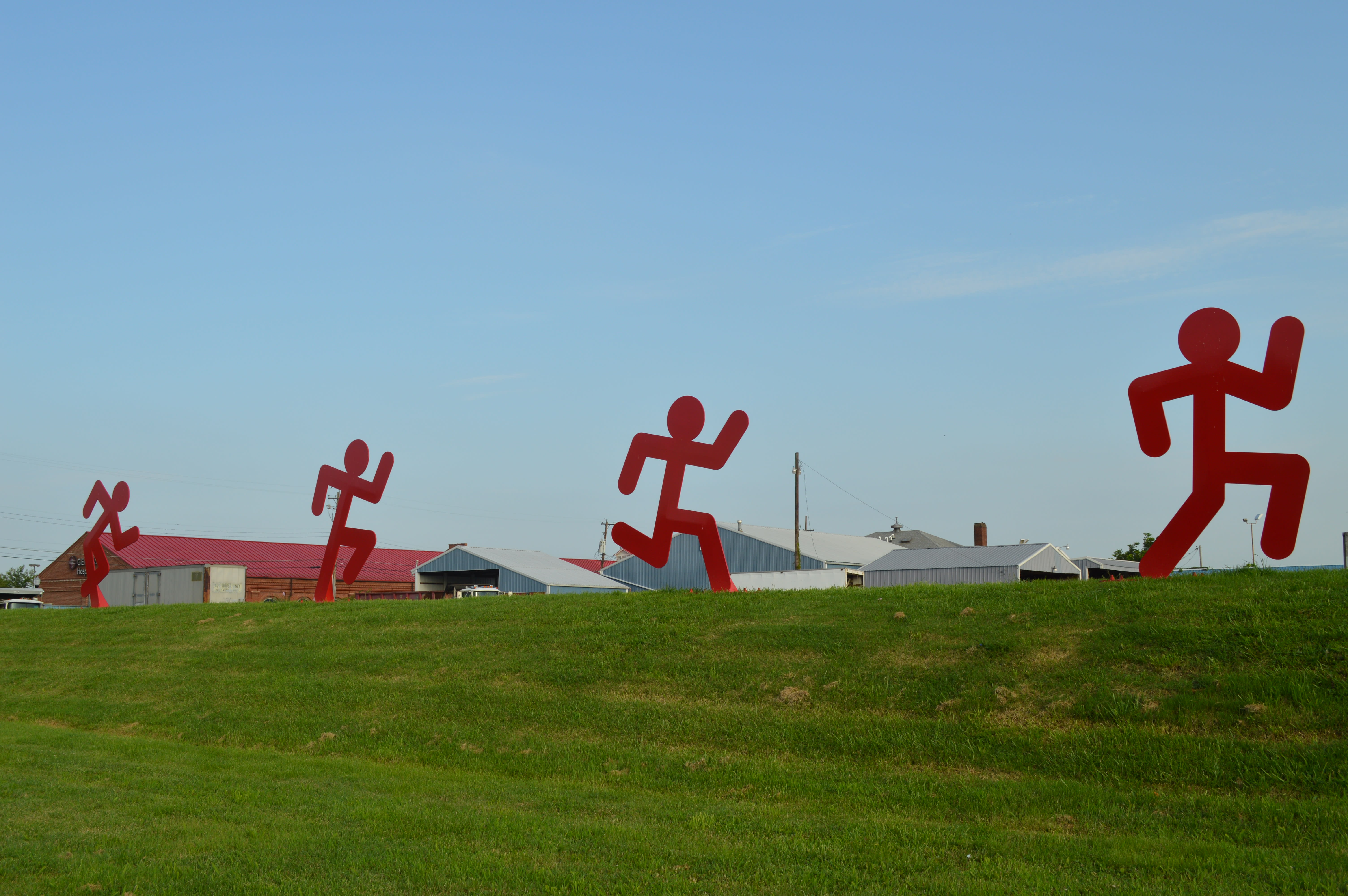 "Jeff" is a fun running sculpture on a Jeffersonville berm. Established in 2012, the commission supports the City of Jeffersonville's growing artistic culture. Artworks, permanent and temporary, include flood wall murals, creative crosswalks, sculptural bike racks, and painted utility boxes.

Where: Public art: can be viewed throughout Jeffersonville;
Map: http://www.jeffersonvilleart.com/#!art/cy51; Office: City Hall, 500 Quartermaster Ct., Jeffersonville Open: 24/7 Info: (812) 786-2307; www.JeffersonvilleArt.com
Jeffersonville ARTS Alliance/JAM Sessions
An alliance of local artists, fine arts educators, and art supporters who share an arts enthusiasm promote, support, and encourage the creation of public artworks in Jeffersonville. If you would like to participate in creating public art pieces, join area artists and other "non-artists" for a JAM Session!  JAM (Jeffersonville Art Movement) is a free and fun way to create art that will beautify Jeffersonville.
Where: Monthly meeting: Silica Ceramic Studio, 246 Spring St., Jeffersonville; JAM Sessions held at various locations.
See schedule.
Open: Meeting: 6 p.m., first Monday of each month; JAM Sessions: 10 a.m.-2 p.m., Saturdays (when scheduled)
Info: (812) 913-4327, www.JeffArts.org