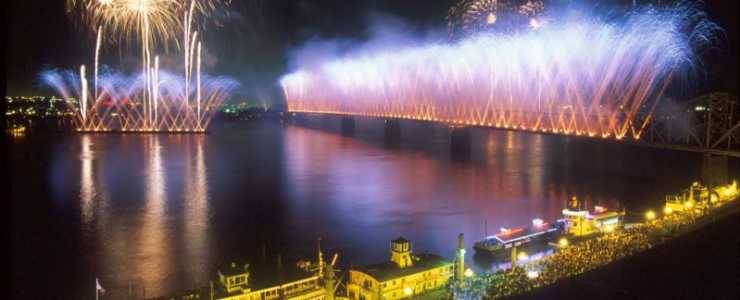 Make your plans now for Thunder Over Louisville, Saturday, April 21!
We've put together a list of helpful information and links that include parking areas and costs. There's also a Thunder Over Louisville viewing map.
Parking Space Available
Water Tower Square Business Park
The Water Tower Business Park in Jeffersonville will have parking available for cars and RVs again this year. Because there are limited number of RV and car parking spaces, reservations are encouraged. For a parking lot map and lot sizes and restrictions, visit the links below.
Where: Water Tower Square Business Park, 300 Missouri Ave., Jeffersonville
Cost: $300 RVS, and $25 for RV car pass; $50 and $75 cars, reserved; $20 car non-reserved
Info: (812) 288-9057; General info: https://www.watertowersquare.com/thunder
Kye's Event Venue
Located in Water Tower Square, this Jeffersonville event venue offers parking the day of Thunder. Parking passes can be purchased online and will be mailed to you through April 18th. From April 18-21, passes can be picked up at Kye's.
Where: Kye's, 500 Missouri Ave., Jeffersonville
Cost: $20
Info: (812) 285-8500; http://www.kye-s.com
Parking  near old Colgate Plant and 2nd Street Bridge
Where: South Clark Blvd. and Woerner Ave., Clarksville
Cost: $200 per reserved RV, $250 for RV day-of; $20 per car spot, $10 per motorcycle spot
Info: (502) 963-3650 8 a.m.-5 p.m.
Viewing Area: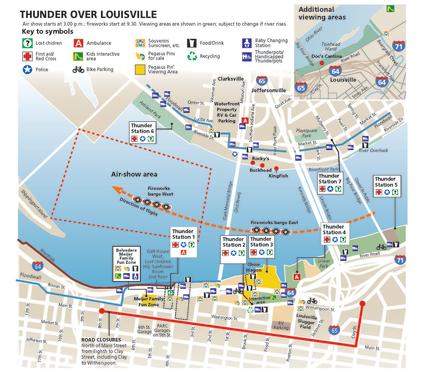 Helpful Links:
If viewing on the Kentucky side:
What to leave at home
Clarksville Parks Information:
Visit: http://www.clarksvilleparks.com
Jeffersonville Parks Department: 
The City of Jeffersonville accepted silent bids for boat dock use during Thunder Over Louisville through March 16, 2018. Contact JSemones@CityOfJeff.net should any docks become available; https://jeffparks.org