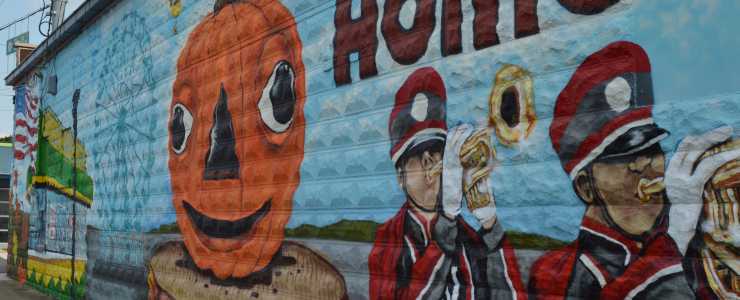 We recently asked the Harvest Homecoming crew for a sneak peek at what's new for southern Indiana's largest festival. While you'll still find many of your favorites, you'll also see some exciting changes and additions to the festival's, "Pumpkin Bash."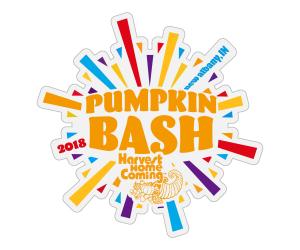 Bourbon on the River
A new event, Bourbon on the River, was introduced for the festival's golden anniversary last year. The spirits-sampling event was so popular, that it will expand this year with more upscale and newly-released varieties and more tickets.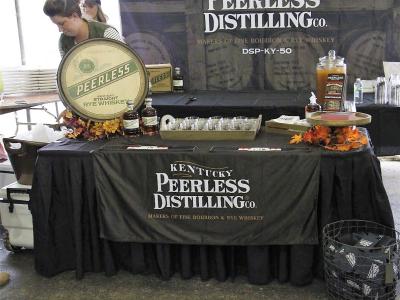 The festival will double the number of tickets to 300 this year, and they'll have 100 VIP experience tickets at $65 each. VIPs will enjoy special section seating and admittance an hour before general admission ($45).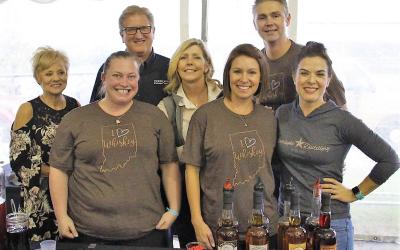 Huber's Orchard, Winery and Vineyards is the event sponsor.
Kids Day in the Tent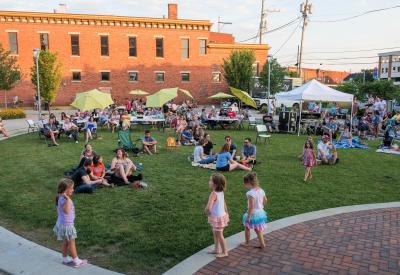 Shaded, convenient, and easier access was key to making this fun day for families a success. The former location for Kids' Day was near the rides – quite a stroll from where food and vendor booths are. This year, grandparents and parents don't have to walk nearly as far to accompany kids at the event. Held at Bicentennial Park it will have free admission, hands-on activities, plenty of picnic tables and seating.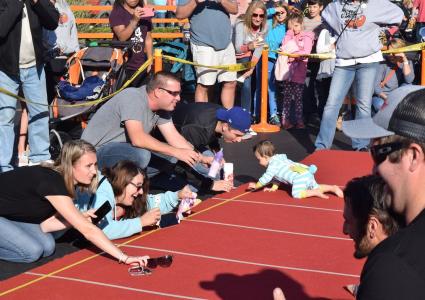 Kids Day will be loads of fun for children 6th grade and under. Bicentennial Park is located on the corner of Spring and Pearl streets. All children must be accompanied by an adult at the event, Saturday, October 13, noon to 3 p.m.
More Space, More Booths
Walking in downtown New Albany during booth days is an experience. Festival-goers love to browse, shop, eat, and stop to visit with friends and family along the way. That's the "homecoming" part, what makes the festival special.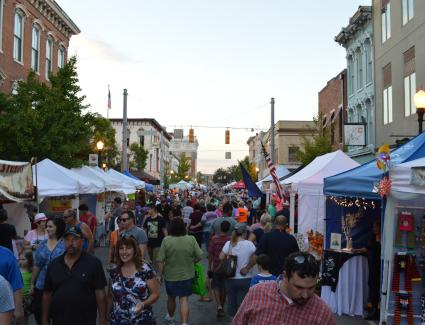 The festival has grown through the years—in attendance and vendors—and outgrew the original allotted space. This year, the festival space has expanded, to make room for 60 additional booths.
More Space to Sit a Spell
Harvest Homecoming is known for its foods—corn on the cob, pumpkin ice cream, chicken and dumplings, and donuts, to name a few favorites.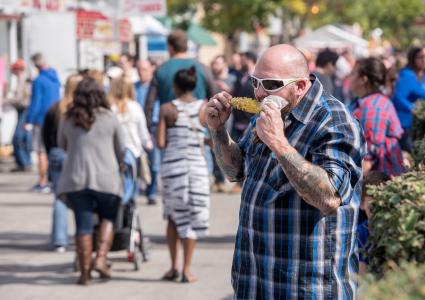 As booths and attendance increased, dining spots became sparse and shaded areas minimal. (Let's face it—eating chicken and dumplings while shopping, walking, and talking isn't easy!) You'll see more picnic tables, so you can sit down and enjoy the food—and the company.
New Albany's Foodie Food
Downtown New Albany is known for its fine dining and foodie spots. It seems fitting for local chefs' creations to be showcased at the festival. So, be sure to enjoy food from The Exchange, Brooklyn & the Butcher, Adrienne's, Bella Roma, River City Winery, Habana Blues, or the new Longboard's Taco and Tiki while at Harvest Homecoming. It's a great opportunity to taste local fare.
Just be sure to save room for a few donuts.
Harvest Homecoming will be held October 6-14.

Want more info about the Pumpkin Chunking "trebuchet competition
and other events? Visit HarvestHomecoming.com.