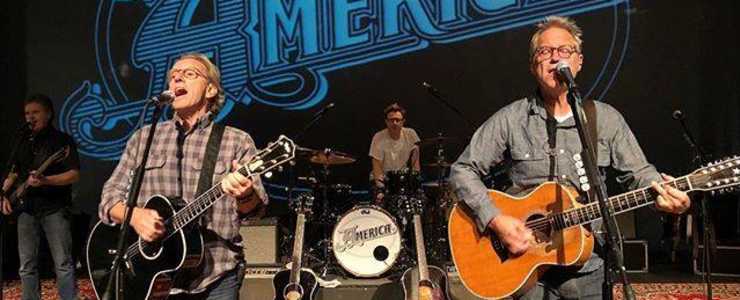 Are you excited that Abbey Road on the River is just days away? We are, and we're totally stoked about who's performing this year! Here's a preview of some of the 50 bands performing over 250 concerts May 24-28. We're also including a map of Big Four Station Park so you won't miss a beat!
You'll Flip Over this Lineup
America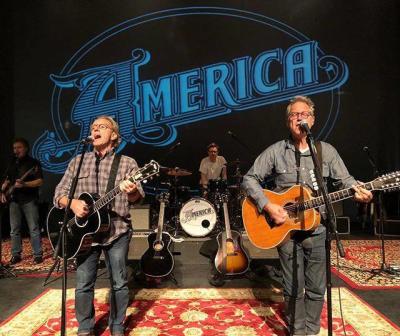 This year marks the 48th Anniversary of perennial classic-rock favorite, America. Founding members, Gerry Beckley and Dewey Bunnell (along with former band mate Dan Peek) met in high school in London in the late '60's and harmonized their way to the top of the charts on the strength of their signature song "A Horse With No Name."  You can expect to hear some of their other well-known hits including "I Need You," "Ventura Highway," "Don't Cross The River," "Tin Man," "Lonely People," and "Sister Golden Hair" when America performs Saturday, May 26 at 8:30 on stage A.
Vanilla Fudge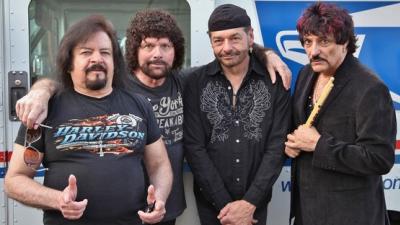 Vanilla Fudge celebrated its 50th anniversary in 2017 and is still rocking the world with concerts in the USA and Europe. They have also appeared on TV, including on the The Jimmy Fallon Show. Originally, Vanilla Fudge was a blue-eyed soulful cover band called "The Pigeons" and formed in New Jersey in 1965. In early 1967, manager Phil Basile convinced producer, George "Shadow" Morton (producer for The Shangri-Las and Janis Ian) to catch their live act. Impressed by their heavy-rocking, trippy and psychedelic version of The Supremes' "You Keep Me Hangin' On," Morton offered to record the song as a single. The result? A deal with the Atlantic subsidiary Atco, and a band name change. The rest is history! You can catch Vanilla Fudge on Saturday, May 26 at 5 p.m. on stage A.
Geoff Emerick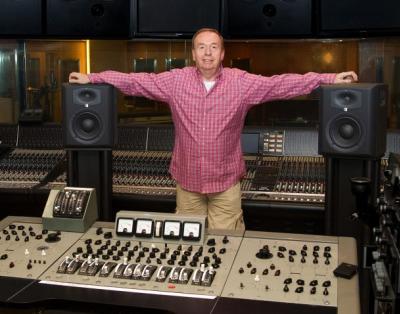 If you have any knowledge of the music industry, Geoff Emerick is already a familiar name. He stands out as a true pioneer in the business, having won lifetime achievement awards and multiple Grammys, including a technical Grammy. On the other hand, even if you don't recognize his name, you are already familiar with his vast body of work. He has been a major influence in shaping the music industry for the past 50 years. Geoff will be appearing on Saturday, May 26 at 10 a.m. at the Radisson Hotel.
Big Four Station Park Map
To help you find the artist you want to hear, be sure to print a copy of the below map showing the layout of Big Four Station Park.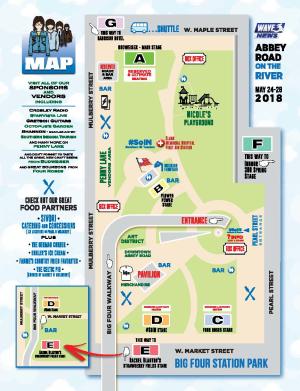 You can view the performance schedule here. Performers are color-coded according to stage location seen on the map. Other key locations noted on the map: box office locations, first aid, Big Four Bridge access, "Penny Lane" vendor area, merchandise pavilion, and shuttle drop-off location.
Do you have your tickets yet? You can purchase onsite during the event, but tickets may sell-out! To purchase ahead of time, you can go online, or visit these locations in SoIN.
If you need room accommodations, The Radisson, Sheraton, Hawthorn Suites, and the NEW TownePlace Suites are suggested hotels and may still have rooms. For other hotel and B & B Inn stay options in SoIN, visit our hotel listings page.
Share Abbey Road on the River photos and video using #AROTR18 on Facebook, Twitter, and Instagram. 
SoIN Tourism hopes you have a fab-ulous 2018 Abbey Road on the River!