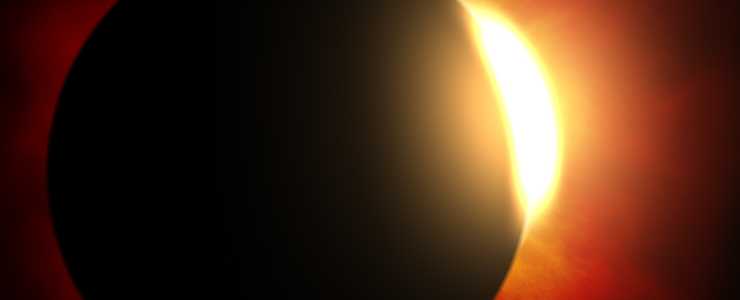 There was much pre-event media coverage of the "great American eclipse" and the expected influx of visitors to the path of totality on August 21st. From large cities with plenty of visitor infrastructure (Nashville) to the smallest community with limited hotel space (Hopkinsville, Ky.), destinations prepared to welcome visitors.
With the total eclipse corridor being so close, we certainly didn't expect, nor did we get many visitors viewing our partial eclipse. Many of us went outside with our special glasses and watched the 96% coverage and then went back to work. All of us knew the eclipse was a big deal. But what were we expecting and how did we fare? 
The U.S. had no modern-day equivalent event to draw forecasts from. Across the country, nobody really knew what the hotel demand and economic impact would be – either in the path of totality or just outside it. What we didn't expect was our own little boom of hotel sales on either side of the event.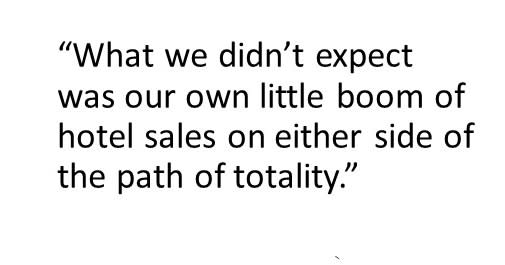 STR Global, a trusted hotel research source, analyzed hotel performance in the 222 cities within the path that have at least one hotel. The average increase on the night of August 20 in Revenue per Available Room (RevPAR), an important industry measurement, was 244% over the previous comparable night last year.  Of course, Hopkinsville topped the list with RevPAR up 1,644% over 2016.
Unexpectedly, our own hotels in SoIN also saw an increase in sales.  With no other major events in the Louisville area that weekend, the combined increase in room-night sales on Saturday, Sunday and Monday night was 1,388 or 31%.  More importantly, the sales revenue was up $140,000 or 41%. This has caused ripple effects, as those visitors likely ate meals and made other purchases while in the area.
Plan now for 2024 Eclipse?
On April 8, 2024, again on a Monday, we will be just outside another total eclipse. This time, we will be much closer to the path of totality, with Salem and Scottsburg in total blackout. How will our hotels prepare? 
Will they have 3-night minimum stays like those in the zone this time? What will our municipal parks departments and attractions do to entertain visitors that may be here for three days while only being truly occupied for one minute in nearby darkness?  What food and drink specials can our restaurants dream up? Who will partner with local bus companies to shuttle hotel guests to a special location they have secured outside of Salem complete with a tent, catered meal, champagne toast, and port-a-pots? Who will have an astronomer come to their hotel on Sunday night for a hands-on workshop to build pinhole cameras and have a special program for kids?
Yes, it's seven years away. But is it really too early to start planning and marketing something special?  
How will we make our mark in 2024? Will we just throw open our doors and say "yeah, we're open, come on in." Or will we be the destination that throws the most memorable eclipse party – an event that garners national media attention? For a destination just outside of the viewing zone, the answers to these questions will be the difference between +41% and +141% hotel performance.
So, what do you want to do?
Whatever you do, let's work together. With your help, we can become a destination that uses creativity, teamwork, and planning to be a shining light in tourism during the eclipse.