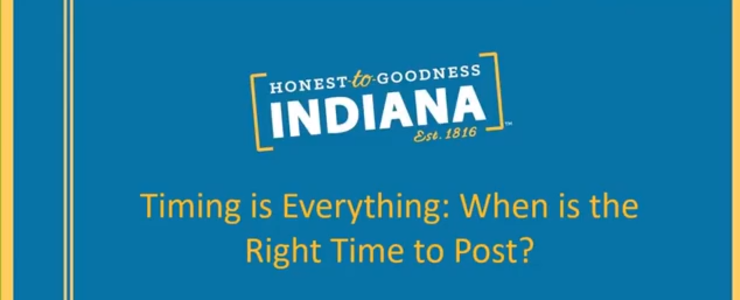 Following last week's Team SoIN meeting, several tourism partners attended an Indiana Office of Tourism Development (IOTD) webinar. Titled, "Timing is Everything: When is the Right Time to Post on Social Media?" the webinar gave hints on when and how often to post on social media. 
Digital Communications Specialist Kyle Johnson presented these highlights:
Think of your daily posts as inventory

If you don't post, you're throwing valuable info away
You can't get back unused inventory

Lifespan of posts

Twitter: a tweet's lifespan is a few hours

Spread posts out to cover an entire day (9 a.m. to 9 p.m.)
Info served up in real-time distribution

Facebook: an organic post's lifespan is about a day

Post at least once a day
Algorithm-based (info served up based on relevancy)
May not be seen without money to boost it

Instagram: post lifespan is a day

Post at least once a day
Algorithm-based (info served up based on relevancy)
Kyle also stressed the importance of scheduling posts in advance, which can be done various ways. For Twitter, he suggested Tweetdeck. Facebook offers scheduling within its post box. For Instagram, Kyle suggested Later, a calendar-based scheduling app. Others such as Hootsuite, Buffer, and Sprout are also trusted sites which provide social media content management.
To see which management site suits you and your company, download a few and give them a try—one at a time. After a few weeks, you will know which management site works best. 
The Takeaway
Engaging and relevant social media posts can become more effective when frequency strategies and management sites are used on a consistent basis. 
Questions regarding social media strategies? Forward them to Regina Walker-Tekulve.
To register for upcoming webinars, visit the IOTD website. If you were unable to attend the Feb. 6 webinar, you can watch it on YouTube.