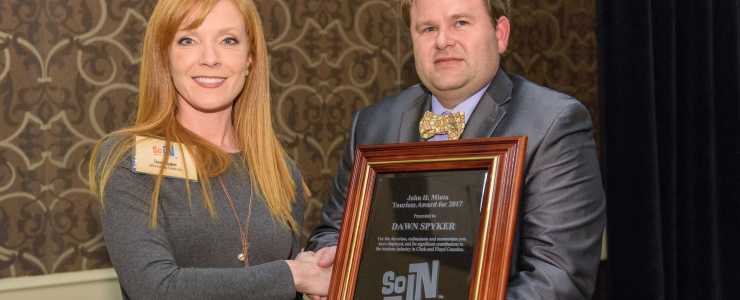 SoIN Tourism is extending the deadline to accept nominations for the 2018 John H. Minta award to MONDAY, NOVEMBER 13 at 5 p.m.

Every year the award honors the memory of Board of Managers' Past President and long-time Clarksville Town Council President, John H. Minta, who had a passion for Southern Indiana, its cities, towns, historic sites and tourism opportunities.
Do you have a fellow Clark or Floyd county tourism partner you'd like to nominate?
Here are criteria and questions to consider:
Contribution Level 

Do this person's tourism efforts create significant economic impact on the communities?
Has the nominee contributed many years to the tourism industry?
What is the outcome of those contributions?
How has the tourism industry benefitted from this individual's efforts?

Legacy 

What will the community say about the individual, organization or business 20 years from now as it recalls this nominee's impact on the tourism industry?

Drive and Enthusiasm

Is this nominee devoted, enthusiastic, and driven to improve tourism in our communities?
Has the individual, organization or business created momentum within the industry to achieve tourism milestones? 

Outstanding Contribution 

What makes this nominee's contribution special significant and outstanding to the tourism industry?
Submit your nomination(s) using the 2018 Minta Award Nomination Form by 5 p.m., Monday, Nov. 13, 2017, via email or by postal mail (postmarked by November 13th) to:
John Minta Tourism Award
Clark-Floyd Counties Convention and Tourism Bureau
315 Southern Indiana Avenue
Jeffersonville, IN 47130
Visit@GoSoIN.com | (812) 282-6654