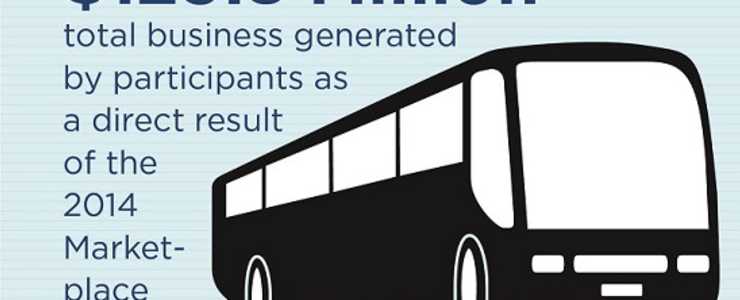 Last week sales managers from all walks of the tourism industry descended on St. Louis. They attended the largest motorcoach marketplace in the country, Jan. 9-14.
About the Marketplace


The American Bus Association (ABA) has close to 3,800 members. About 1,000 members represent motorcoach and tour companies in the U.S. and Canada. These members operate charter, tour, regular route, airport express, special operations and contract services. The other 2,800 members represent the travel and tourism industry and suppliers of bus products and services, such as hotels, attractions and restaurants, who work in partnership with the North American motorcoach industry. As the industry leader, ABA caters to the transportation and travel needs of the public in North America.
The marketplace's main purpose is to b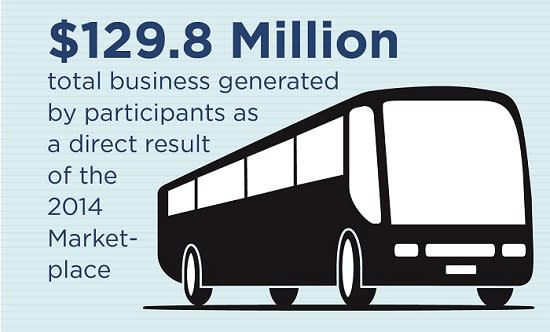 ring buyers and suppliers together under one roof so they can meet face to face. Buyers (tour operators and group leaders) are looking for new destination ideas, working through their existing itineraries to give their customers (the bus passengers) the best tour possible. Suppliers (hotels, attractions, restaurants, and destinations) have a goal to build relationships and suggest their destination or attraction to tour operators and group leaders.
What do Speed Dating and the ABA Marketplace Have in Common?
The ABA marketplace is a series of prescheduled appointments between buyers and suppliers to meet face to face and do business together. Appointments at last year's ABA marketplace generated $129.8 million in total business, and the 2015 marketplace is expected to do the same.
Similar to speed dating, buyers sit down with suppliers for an appointment that lasts just seven minutes. When the seven minutes are up, the supplier moves to another tour planner. The average tour planner will have about 250 seven-minute appointments over the course of three days. Each appointment is filled with possibilities: the possibility that a motorcoach company will find a new destination or the possibility of a new tour being offered from destinations around the country and abroad. Both buyers and suppliers share their needs and what they can offer. Seven minutes later the process starts all over again.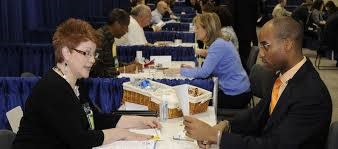 The marketplace lasts four days and includes education sessions for both buyers and suppliers. They learn about new trends, marketing and sales techniques. Classes cover all the bases of running a successful business with topics that range from social media to how to handle a multi-generational workforce.
The art of networking is performed at marketplace. Attendees have many opportunities to build relationships. Building both relationships and trust are the main anchors to a successful marketplace.
The days start at 7 a.m. and can go as late as midnight. Each day is packed with hand shaking and face-to-face interaction. Meals are set so attendees can easily get to know folks in an informal setting. Everyone wears color-coded name badges, so you know who you're sitting with by just a quick glance.
The host city often has two nights set aside to provide an off-site evening event. This is a great way to see destinations that are new and different and learn how they handle groups. You can learn a lot by watching other suppliers to see what you can do to improve things when you get back home. Suitcases are often heavier on the return flight. ABA is a great place to collect marketing pieces from other attractions, hotels or restaurants to study.
ABA is member-focused. It has held this annual marketplace for 40 years. More operators attend each year, along with more suppliers. The days are long, packed with activity, and the business generated is worth it.
On the final night of the 2015 conference, Louisville hosted an event, since it will be next year's host city. It will be an exciting year for Kentuckiana. We can't wait!
For questions about motorcoach groups, email Kate Kane.