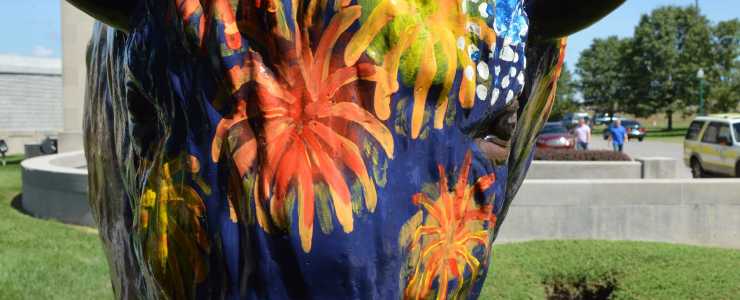 Have you met the newest member of the SoIN staff? He definitely adds color to the Southern Indiana Visitor Center. Our bison is part of the Indiana Association of United Way's 2016 public art project celebrating Indiana's 200th birthday.
Selected from a pool of local artists, Bellarmine University student Brianna Jacobi was chosen to paint the white fiberglass bison honoring the area and the Indiana Bicentennial.
"As soon as I got the call, I wanted to grab a paint brush and get started right away," said Jacobi. "I really felt so honored to be chosen."
Her design uses colorful imagery to depict attractions, restaurants, and scenery found in Clark and Floyd Counties. Fireworks on the bison's head symbolize Thunder Over Louisville, and the base depicts local food, history, attractions, and activities.
When asked why she chose these images, Jacobi said, "I think it's very bright and fun, and it represents so much of what our counties are made of."
Want to see the Bison for yourself?
Stop by the Southern Indiana Visitor Center, located at 305 Southern Indiana Avenue at the base of the Clark Memorial Bridge in Jeffersonville during normal business hours, 10 a.m. to 5 p.m., daily.