For Our SoIN Tourism Partners
Updated April 6, 2021

We have reached out to the Floyd County and Clark County officials, offering to serve as a liaison to our tourism industry contacts and we are also working with Louisville Tourism officials to coordinate efforts. SoIN Tourism is actively monitoring the news regarding COVID-19. We are aware of the challenges it presents, especially the health and well-being of the public. We are following recommendations from the national Center for Disease Control and Prevention (CDC) and the Indiana Indiana State Department of Health. We urge our partners to do the same. 
Please see below for messages about the coronavirus. You'll find best practices for business along with a form to report event or meeting cancellations due to the virus. 
---
Join the Hoosier Hospitality Promise
Partners, help us show the SoIN community that we are properly prepared to welcome visitors back to our area! Sign the Hoosier Hospitality Promise below. We all must add new procedures and operate a little differently to welcome visitors back.
When you are ready to welcome guests, show them you offer a safe, healthy environment by displaying the "Hoosier Hospitality Promise" materials.
Steps to join the Hoosier Hospitality Promise:
Review these materials
Finalize your safety procedures to adhere to guidelines
Fill out the form below, which show that your business and employees agree to the Hoosier Hospitality Promise
Download the marketing materials to promote your business is prepared 
SoIN Tourism will provide a window flyer to display at your business. 

Hoosier Hospitality Promise Informational Materials
HHP letter from Indiana Tourism Association - English | Letter - Spanish version 
HHP Informational Flyer - English | Informational Flyer - Spanish
---
National Updates
January 2021, President Biden announced his National Strategy for the Covid-19 Response and Pandemic Preparedness. You can view it here. 
---
State of Indiana Updates
Gov. Holcomb extending county-by-county restrictions. 
On April 6, 2021, Gov. Holcomb announced that the state of Indiana will be continuing restrictions on a county-by-county basis with new modifications, and ending April 30, 2021, after that they will reassess. You can review the most recent executive order here. 
---
Local Updates
Click on the following links for more information about COVID-19 updates in the following cities: Charlestown, Clarksville, Jeffersonville, and New Albany. 
---
Resources for Business to Reopen: Partner Toolkit
Since the outbreak of COVID-19, we in the tourism and hospitality industry have reexamined our industry's safety measures. As locals and visitors express the desire to get out of their homes and back into your business, it's important to be prepared to welcome guests safely and to ensure you, your employees, and your customers are safe.
Click the graphic below to view our toolkit where resources are available to help you reopen your business.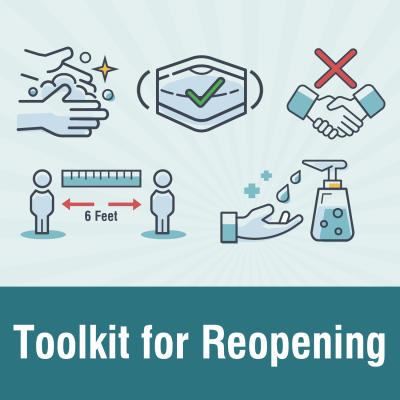 ---
Open Dialogue
If you do have a cancellation, we at SoIN Tourism encourage you to talk with the parties and continue to develop the relationship.
You're going to come out of this, and you want to keep a dialogue going with your contacts. Focus on maintaining a positive impression. Keep the relationships going so when the situation rebounds, you can pick up where you left off.